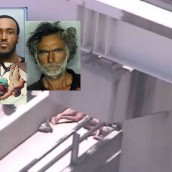 The name of the homeless man involved in the horrible naked Chewing face attack in Miami Beach has been revealed as that of Ronald Poppo, along with his name come the gruesome photos of Mr. Poppo after the attack. Very graphic, you have been warned! (GRUESOME PICTURE HERE)
65 year-old Ronald Poppo the homeless man attacked by 31 year-old Rudy Eugene has been officially identified by police and thanks to the Miami Herald, the Herald has more info about Mr. Poppo and his extensive criminal record (burglary, assault, drinking in public), his last encounter with police was 7 years ago.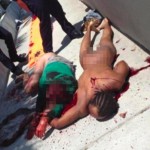 Ronald Poppo's face after the attack, showed him missing about 75% of his face, his nose is gone, one eye, ears, cheeks skin on his forehead, these are very graphic, almost hard to believed this actually happened. Unreal to have happened in real life and not in a movie script. Rumors about a possible drug cocktail by Eugene is believe to have caused this behavior, some even said Mr. Poppo was drugged too, a new Meth drug called "Bath Salts".
Face Pictures- After Chewing Face Attack in Miami

,