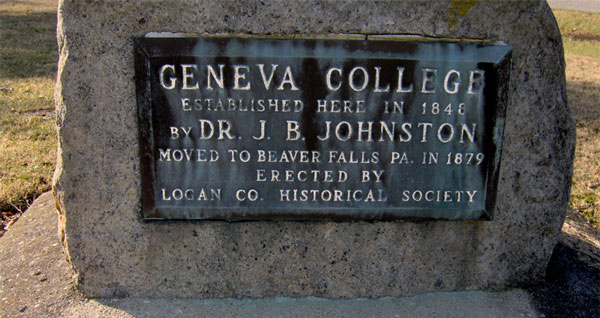 President of Geneva College, Dr. Ken Smith, intends to pay a fine to the federal government rather than comply with the HHS mandate that forces institutions to provide abortion-inducing drugs, contraception, and sterilization to its employers.
The mandate, scheduled to be effective on August 1 of this year, could financially penalize institutions for non-compliance with its demands that blatantly undermines religious freedom.  Placed in a challenging situation, this small, Presbyterian, liberal arts school located in Beaver Falls, PA will either be forced to drop health care insurance altogether, resulting in steep fines.
"We would rather pay the fine than violate our conscience," said Smith.
That fine is hefty.  Assuming the mandate stands, "There will be a significant financial impact on the College because we cannot be compelled to take action that violates our conscience.  If it [the fines] are over half a million dollars, we'd have to find a way to absorb that."
Geneva College, a historic, Presbyterian institution founded in 1848, holds the position that human life begins at conception.  While it provides coverage for birth control drugs that act before conception, its contract with its health insurance provider excludes coverage for elective abortions and abortion-inducing drugs.
"In our case, specifically, it is the coverage of abortion-inducing drugs that have been labeled by the FDA and marketed as contraceptives, but the affect of which really causes abortion," said President of Geneva College Dr. Ken Smith.
Moreover, Smith, acknowledging the complexity of the college budgeting process, says that fines may impact students' scholarships and cut other resources – academic and athletic.
The student body's reaction to Geneva's courageous response has been "overwhelmingly positive," evident by the "sustained applause" following the College's press release where officials spoke from Geneva College and the Alliance Defense Fund (ADF), Geneva's legal representation.
Kevin Scavo, a senior at Geneva College studying computer science, said "A lot of students were at the press release conference showing their support for the College."
Geneva College has courageously taken a stance against a law it believes is unconstitutional and violates the First Amendment.  Scavo continued, "This is a risky move for them, and I really admire the fact that they're able to make a stand and go the whole nine yards."
"The issue that we have with the entire law is that the Obama administration has tried to define religion as being that which what churches do. We believe that religion takes us into the marketplace. There is both an internal community of faith responsibility of religion, but there is also an external service to community.  That is religion," said Smith.
The government has narrowly defined religious liberty in the mandate, disqualifying for an exemption those institutions that work in their communities, in accordance with their beliefs, to serve those outside their own faith. In other words, such institutions cannot practice what they preach.
"The First Amendment says that the government won't make laws that inhibit free exercise of religion," said Smith.
Through this mandate, the Obama administration burdens religiously motivated work, by endangering the resources of many hospitals, social service groups, and schools through a fine on faith. Meanwhile, hardworking college students also suffer at the expense of the government, as the HHS mandate threatens resources of institutions that make significant contributions to society.
Melanie Wilcox is currently a member of the Young Leaders Program at The Heritage Foundation. For more information on interning at Heritage, please visit: http://www.heritage.org/about/departments/ylp.cfm
Geneva College Stands for Religious Freedom

,
Source material can be found at this site.