By Peter Paton
The  expected departure of Shaul Mofaz and Kadima from the Benjamin Netanyahu Coalition Government, spells the political end for Mofaz and Kadima, and conversely triggers the rise of Israeli Deputy Prime Minister, and Minister of Strategic Affairs Bogie Yaalon, as the new Heir Apparent to Bibi, and future Prime Minister of the State of Israel.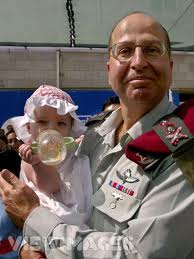 Like a Phoenix rising from the Ashes, Bogie Yaalon has patiently bided his time, and carefully calibrated his words and actions for such a pivotal time as this in the History of the Jewish State. Bogie Yaalon is particularly fond of famous Jewish religious leader Hillel the Elder's statement " "If I am not for myself, who will be for me? And when I am for myself, what am 'I'?" And "If not now, when". These expressive and passionate words indicate the compassionate and spiritual nature of Yaalon, a former Head of the Israeli Defense Force, who has led a distinguished and illustrious military career, and has acquired great political acumen and expertise along the way during his time in the Israeli Parliament, the Knesset.

These are very dangerous times for the State of Israel and the Democratic World in general, with the Iranian Mullahs on the verge of possessing a Shoah Bomb which would be a deadly Existential threat to the Jewish State, and American, Nato and friendly Sunni Arab States in the Middle East. The so called Arab Springs is more and more resembling an Iranian Revolution led by the fanatical Ayatollah Khamenei and the Iranian Revolutionary Guard (IRG Elite). The political rise of Israeli Vice Premier Bogie Yaalon, Heir Apparent to Netanyahu, may well have been preordained by Divine Providence at this critical juncture in History.
Peter Paton is an International Counter Terrorism Adviser
Follow Peter on Twitter @pjpaton
The Ascendancy of Bogie Yaalon; Heir Apparent to Netanyahu

,