Liberal activists and Democratic politicians have attempted to demonize the Chick-fil-A restaurant franchise because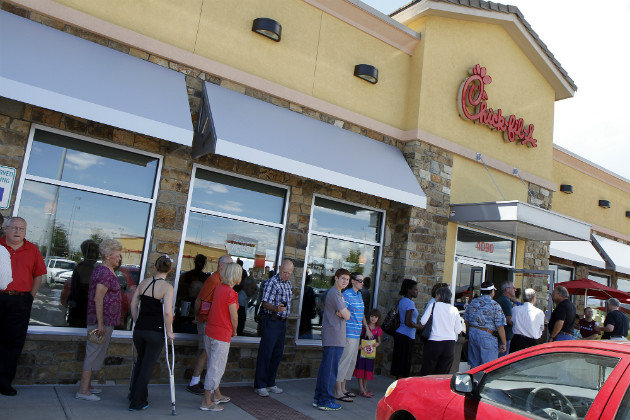 of its owner's religious views supporting a traditional biblical marriage. They've urged a boycott of the restauarant chain, their plans completely backfired and the opposite happened.
Chicago Mayor Rahm Emanuel and a Chicago Alderman thinking they are dictators have even gone so far as declaring that no permits will be issued to the restaurant chain to establish new restaurants in "their" cities.
That prompted the Chicago GOP to file a complaint against Emanuel and Alderman Joe Moreno with the Illinois Attorney General's Office for breaking the state's civil rights laws by discriminating against the right to practice a religion and serious trouble for their abuse of power. Serious troubles may soon be out their doorsteps for their clear volition and infringement on the companies right to open a business, as well as it employees rights to practice religion.
Yesterday, conservative activists urged supporters of the restaurant to patronize the restaurant in a show of support dubbed Chick-fil-A Appreciation Day. By all accounts, supporters packed into the chain's restaurants across the nation, including liberal controlled cities such as Indianapolis. The turnout so astounding the restaurant chain had hours waits and lines outside the door and beyond. The boycott completely backfired on the leftist, There are rumors that Chick-fil-A may set a new world record for sales in a single day, though the company has yet to release any sales numbers it may be added to the Guinness Book of World Records.
The leftist mainstream completely blacked out this Chick-fil-A Story mostly. You wouldn't know anything about the national phenomenon and long lines and Chick-fil-A by reading the front pages of most of the country's leading newspapers.
There's no mention of Chick-fil-A and its lines wrapping around blocks on the front pages of the New York Times, the Wall Street Journal, the Washington Post, the Chicago Tribune, the Los Angeles Times, the South Florida Sun-Sentinel, and the Boston Globe. The front pages of USA Today, the Dallas Morning News, and the Houston Chronicle have small headlines about the restaurant, while Chick-fil-A's hometown paper, the Atlanta Journal-Constitution, fits in a story below the fold under the heading, "Chick-fil-A Controversy." And the front pages of major news websites are quiet in their coverage as well.
Little do they expect their boycott to fail so miserably, besides long lines out the door, they just gave Chick-fil-A multitudes of millions of dollars in free exposure, completely at not cost to the company. Many other conservative businesses should speak out in support of traditional marriage?