Iran Announced this week they are now a nuclear nation, about an hour or two ago there was a 6.4 Quake in Iran. at a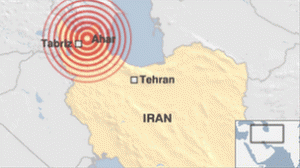 depth of 10KM or 6.2 Miles very shallow, could it possibly be a Nuke test? The U.S. Geological Survey measured the first quake at 6.4 magnitude and said it struck 60 km (37 miles) northeast of the city of Tabriz at a depth of 9.9 km (6.2 miles). A second quake measuring 6.3 struck 49 km (30 miles) northeast of Tabriz 11 minutes later at a similar depth.
A few years ago North Korea tested a Nuke, and the result showed up as a 4.7 Quake on the Richter scale with a depth of 10km as well, is this all just a coincidence or is a test causing these quakes?
In 1978 a Sweedish seismic laborotary at Uppasala recorded a Soviet Nuclear test of ten megatons at Semipalitsk, USSR just 36 hours before the earthquake. British and German geophysics believed that the 1978 earthquake in Tabas, Iran, which killed more than 25,000 people, was likely to be triggered by an underground nuclear explosion triggered by the USSR.
Iran is straddled by several major fault lines and has suffered several devastating earthquakes in recent the past, it is possible to be naturally caused or from nuclear testing.
The Iranian Students' News Agency quoted the head of the government's emergency centre, Gholamreza Masoumi, as announcing the casualty figures. Iranian media said the quakes have confirmed to have killed between 90 and 180 people and injuring over 1400, Iranian officials fear the death toll could rise. Reports say phone lines to many villages have been cut off, making rescue efforts harder.
A local official in the area told ISNA that six villages had been completely destroyed and 60 villages had been 50 to 70 percent destroyed.