IDNS: Judge Absolves IDF For Rachel Corrie's Death
August 28, 2012 16:42 by Pesach Benson
Everything you need to know about today's coverage of Israel and the Mideast. Join the Israel Daily News Stream on Facebook.
Today's Top Stories
1. Absolving the IDF of responsibility for Rachel Corrie's death, an Israeli civilian court rejected a lawsuit brought by her parents. This Jerusalem Post snippet sums up what you need to know:
Saying that Corrie could have avoided danger, he dismissed claims that the IDF was negligent in the incident. The IDF did not violate Corrie's right to life, he continued, asserting that she inserted herself into a dangerous situation.
The state, he continued, was not responsible for any "damages caused" due to the combat situation but nonetheless called Corrie's death a "regrettable accident."
In his verdict, Judge Gershon also criticized the United States for not sending a diplomatic representative to observe the autopsy conducted on Corrie.
2. The PA's unhappy with Mohammed Morsi. Ramallah isn't feeling the love, reports Asharq al-Awsat:
The Egyptian leadership "is dealing with Hamas as if it is the representative of the Palestinians in the Gaza Strip, ignoring the role of the Palestinian Authority (PA)". The sources added: "Egypt is negotiating with the Hamas government about security affairs, the Rafah crossing and conditions relating to the people, including issues of electricity, medicine, smuggling tunnels and commercial traffic".
Israel would be slammed if it pursued a three-state solution, but Tehran and Cairo don't mind moving that way.
3. Wall St. Journal: An Iran's Revolutionary Guards commander gave the clearest indication so far that the group's active in Syria:
"Today we are involved in fighting every aspect of a war, a military one in Syria and a cultural one as well," Gen. Salar Abnoush, commander of IRGC's Saheb al-Amr unit, told volunteer trainees in a speech Monday. The comments, reported by the Daneshjoo news agency, which is run by regime-aligned students, couldn't be independently verified. Top Iranian officials had previously said the country isn't involved in the conflict.
Rachel Corrie Verdict
• I'm not going to rehash years-old arguments about what the bulldozer driver woulda/coulda/shoulda seen. But if Channel 4 news presenter Jon Snow is questioning the integrity of Judge Oded Gershon and the Israeli court, that's something I have an issue with. What does he find grim?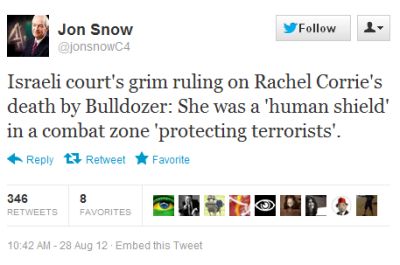 • Regarding the court's credibility, I'll quote the Daily Telegraph's Con Coughlin:
So far as rabid anti-Zionists are concerned, the fact that the law suit brought by Miss Corrie's distraught family has been dismissed after due consideration by Israel's judicial system – which is based very much on the principles of British law – will not prevent the howls of protest emanating from those who simply cannot accept that Israel is a democratic country based on the rule of law.
• Brendan O'Neill (Daily Telegraph) brutally takes down Palestine solidarity's cult of St. Rachel:
The transformation of Corrie's life and death into a black-and-white morality tale – featuring a well-off white American who was pure of heart, poor little brown people who have no hope, and a Zionist entity that is supremely evil – sums up the boneheadedness of modern-day Palestinian solidarity. There was a time when supporting Palestine meant looking upon Palestinians as a people capable of governing their own lives, even of running their own state, free from the meddling or bossing-about of outsiders.
Now, Palestinian solidarity is all about treating Palestinians as the ultimate victims, as helpless, hapless, sad-eyed creatures who need decent Westerners, ideally well-educated ones brought up in Amnesty-supporting households, to come over and "save" them, in a not dissimilar way to how Bible-wielding white folk once tried to saved the savages of Africa.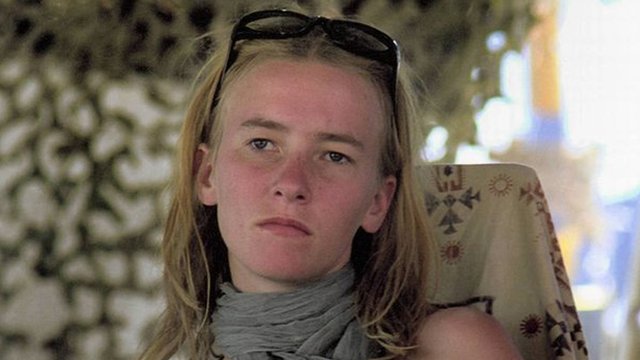 • Lead Screed: Chris McGreal, The Guardian's former Israel correspondent, weighs in:
But the difficulty lies in what then to call the Israeli army when it, too, at particular times and places, has used indiscriminate killing and terror as a means of breaking Palestinian civilians. One of those places was Rafah, in the southern tip of the Gaza strip, where Rachel Corrie was crushed by a military bulldozer nine years ago as she tried to stop the Israeli army going about its routine destruction of Palestinian homes.
An Israeli judge on Tuesday perpetuated the fiction that Corrie's death was a terrible accident and upheld the results of the military's own investigation, widely regarded as such a whitewash . . .
• In all the online buzz, The Muqata remembers The Forgotten Rachels.
Source material can be found at this site.