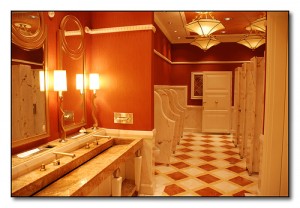 Jeremy Roberts never expected his award-winning middle school science project to get so much attention. But the project produced some disturbing results: ice from fast food restaurants was dirtier than toilet water.
The 13-year-old collected ice samples from five restaurants in Florida — from both self-serve machines inside the restaurant and from drive-thru windows. He then collected toilet water samples from the same restaurants and tested all of them for bacteria at the University of Florida.
In all cases, the ice tested positive for E. coli bacteria, which comes from human waste and has been linked to several illness outbreaks across the country.
"These [bacteria] don't belong there," said Dr. Dennis Kratz, medical contributor to the "Today Show." This is cause for some for panic, and it is alarming. You're not more likely to get sick now. But he's done us a favor by sounding the alarm."
Both Roberts and Kratz said that the ice is likely dirtier because machines aren't cleaned and people use unwashed hands to scoop ice. Toilet water is also surprisingly bacteria-free, because it comes from sanitized city water supplies.
Support from Big Brother
Roberts got interested in the project after reading a newspaper article about bacteria in airplane water and decided to do something similar. Plus, he said, all of his friends chew on ice, and it drives him crazy.
"I just picked the not-obvious choice," the seventh-grader said of his project.
His 17-year-old brother, Javon, is also an award-winning science fair veteran who said he has encouraged his little brother's interest in science.
Javon said when Jeremy told him his idea for this project, "I gave him a high five, then said, 'You're a strange, disturbed and weird little kid.' But I supported him all the way."
The restaurants also have taken notice of Roberts' project. Two began new sanitary policies and have asked him to come back and do his tests again.
"First they appreciated the project," he said. "And one location even asked me to come back and test the temperature of their food." But I said, "No thanks, I am not going to do that. I already know fast food places are filled with bacteria and fecal matter."
Restaurant Food Ice Dirtier Than Toilet Water

,