Today's Top Stories
1. Gaza heats up again. The violence began on Saturday when Palestinians fired an anti-tank rocket at an IDF  jeep, injuring four soldiers.
As this post went to press, nearly 80 rockets had been fired in 24 hours, injuring four Israelis. The air force carried out strikes on several Gaza targets while schools near the border were closed. Soldiers also discovered a tunnel packed with explosives under the border. Details at YNet, Jerusalem Post and Times of Israel reports one and two.
2. The BBC's director-general resigned after Newsnight falsely accused a parliamentarian of being a pedophile.
George Entwistle said his position was untenable after a day of humiliation in which he admitted knowing nothing of a Newsnight investigation which led to Lord McAlpine being falsely named as a child abuser – and nothing of it unravelling. . . .
He has lasted just 54 days in the job. Mr Entwistle's decision plunges the BBC into its deepest-ever crisis and leaves it leaderless at a time of mounting questions over its journalism.
See HonestReporting's response: Finally, BBC Admits to "Shoddy Journalism"
3. YNet: The Palestinian girl filmed screaming at Israeli soldiers was hit by a rubber bullet during a protest at Nabi Saleh, according to the girl's mother. What else can you expect when parents deliberately send the young 'uns to the front lines for photo ops? A YNet commentary adds more perspective.
Israel and the Palestinians
• According to the Times of Israel/AP, the PA's seriously considering delaying its UN statehood:
But a senior Palestinian official indicated Friday that Abbas may be willing to postpone a move for upgraded UN status if the US were to offer a "clear objective" for negotiations. According to the official, the objective would have to be a Palestinian state based on 1967 borders, with East Jerusalem as its capital.
• Haaretz columnist Gideon Levy continues his apartheid crusade:
Anyone who tries to draw a comparison between the occupation regime in the territories to the South African apartheid regime – and their number is rising constantly – is instantly labeled anti-Israel and anti-Semitic. But the facts justify the comparison. No, Israel is not an apartheid state, but the occupation in the territories is apartheid.
The comparison is legitimate. It's a good ting that it upsets a lot of Israelis – perhaps their anger will prod them into looking at the occupation for once.
• The Jerusalem municipality is pushing to have the IDF headquarters relocated to the capital. And a city council member is calling for 60 other government offices now in Tel Aviv to relocated to Jerusalem as well. More at Israel HaYom.
• In a QA, LA Times reporter discusses Israel and the Palestinians with historian Professor Benny Morris.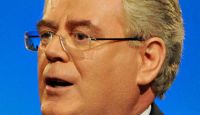 • A leaked letter reveals that Ireland intends to push anti-settlement boycott when it assumes presidency of the EU. According to the European Jewish Press:
Ahead of the start of Ireland's 6-month EU presidency on January 1,2013, Gilmore wrote to the chairman of the Irish parliament' Joint Committee on Foreign Affairs and Trade to commit to following up the EU Council's controversial May conclusions which featured heavy criticism of Israeli settlement policy, with a "stronger response", as he asserted a ban on settlements products would be "consistent with EU values".
• AFP looks at the newest trend: Palestinian ex-pats returning to West Bank and outdoing each other to build ostentatiously palatial homes.
• Lyn  Julius presses the case for recognizing Jewish refugees at the Huffington Post.
Source material can be found at this site.