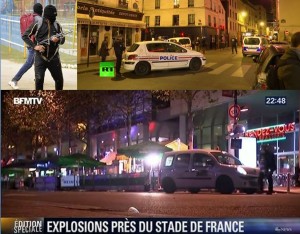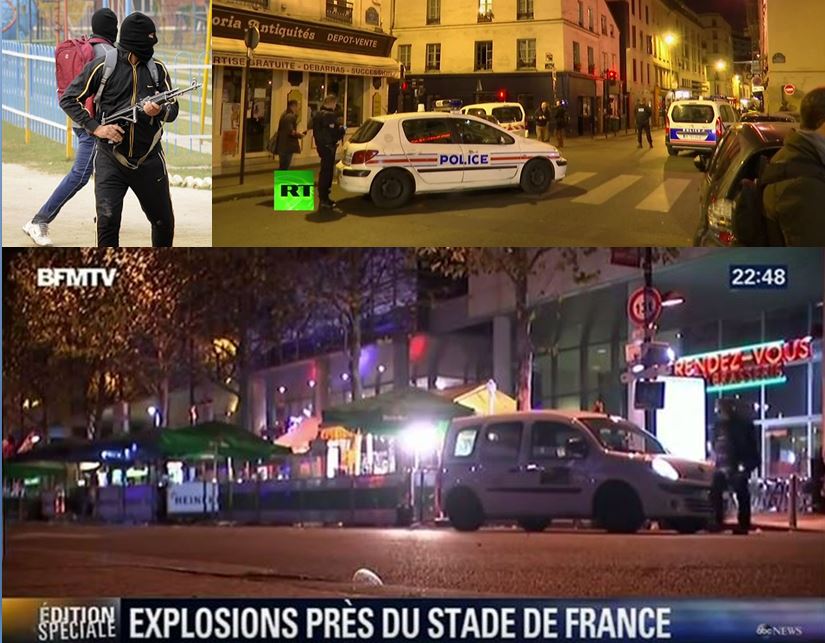 Sounds of AK47s and grenades were heard and reports of explosive belts caused a catastrophe including a massacre. One report stated that there was voices of "Allahu Akbar" coming from one attack. At least Sixty people are reported killed (and rising) during what obviously seems to be a Muslim terrorist Mumbai style coordinated attacks throughout Paris.
In one restaurant two were killed and there are reports of three explosions one at a soccer stadium where France was playing against Germany including hostage taking in a theatre were the victims were begging for police to enter since the terrorists were killing the hostages one by one. In the theatre there was carnage and bodies everywhere which is besides the sixty reported dead. A video shows the sounds of mayhem and gun shots with what seems to be screaming in Algerian dialect:
[youtube TpqSp9OxcpQ nolink]
[youtube KJApDx5egiw nolink]
[youtube gIEKSTitT8I nolink]
[youtube 3x2gw9cBS8w nolink]
There were reported several explosions at the Stade de France in Saint-Denis, west of Paris, Paris Deputy Mayor Patrick Klugman says. He said President Francois Hollande was evacuated at halftime of the France-Germany soccer match.
Hollande, Prime Minister Manuel Valls and Interior Minister Bernard Cazeneuve are holding a crisis meeting at the Interior Ministry to address the attacks in Paris and the explosions in Saint-Denis, according to BFMTV.
Paris police tell CNN there were three attacks. Attackers reportedly used AK-47 automatic weapons. There were one or two explosions at the Stade de France.
There was also reported was a hostage situation at one of the three sites where shootings took place. BFMTV said the ongoing hostage situation was at a theater named Bataclan.
There was a lockdown at the Stade de France due to possible explosions, according to French media. President Francois Hollande was at the stadium, watching France playing world champions Germany in a friendly soccer match, but he left to go to the Interior Ministry.
Police were outside the scene of one of the shootings, a restaurant in the 10th District.
France 2, stated that the neighborhood has many restaurants that were packed with patrons were authorities evacuated the area.
This is much bigger than the early January of this year when two gunmen attacked the Paris offices of the French satirical magazine Charlie Hebdo, killing 12 and wounding 11.
WAR IN PARIS: Muslim Terrorists Attack Paris

,