Very sad days in Paris France as leftist politics are leading the city to resemble a 3rd would country. Massive migration of people from the 3rd world, most whom follow a barbaric religion called Islam.
Now the Korean embassy in Paris had to issued an official warning to its nationals to stay away  after a busload of Korean nationals were attacked, robbed, and assaulted by an African/Arab mob.
Five large areas of France's capital city have been turned into "no-go zones" by the ongoing Muslim violence in France.
A spokesman for Seoul's Ministry of Foreign Affairs said: "These South Korean tourists had taken a bus after a visit to the Eiffel Tower and were on their way to Saint-Denis, the location of their hotel.
"Individuals suddenly boarded the coach and snatched the tourists' Eurostar tickets, which were being kept by the tour guide, whose passport was also taken."
The embassy added in a statement: "In the surrounding area of Saint Denis it is known that there are many accidents such as robbery, car-pinching, etc. at night.
"As a result, people visiting and staying in France should refrain from visiting the area around Saint-Denis." They warned visitors not to go out at night and to report any suspicious activity.
China has also warned its nationals of the many attacks. President of the Chinese Association of Travel Agencies in France, Jean-François Zhou, said "increasingly violent" thefts and assaults are turning France into "one of the worst destinations for foreign tourists". It has become a nightmare of a city.
Media reports say that Muslim migrant violence has already engulfed five large areas of Paris—Aulnay-Sous-Bois, Aulnay, Argenteuil, Bobigny and Tremblay-en-France in the Saint-Seine-Denis district—all of which have "been reduced to no go areas for the past five nights" as the Muslims "cause mayhem on the streets."
Residents have been on lockdown as armed police tried to tackle the rioters who have caused millions of euros damage. Multiculturalism is failing in France and throughout Europe, once quaint cities turning into literal hellholes.
French police have reported being attacked with Molotov cocktails and bats by Muslim barbarians. A large number of vehicles have been torched, and after a social services wheelchair-equipped disability van was set on fire, police were forced to fire live rounds at the Muslims.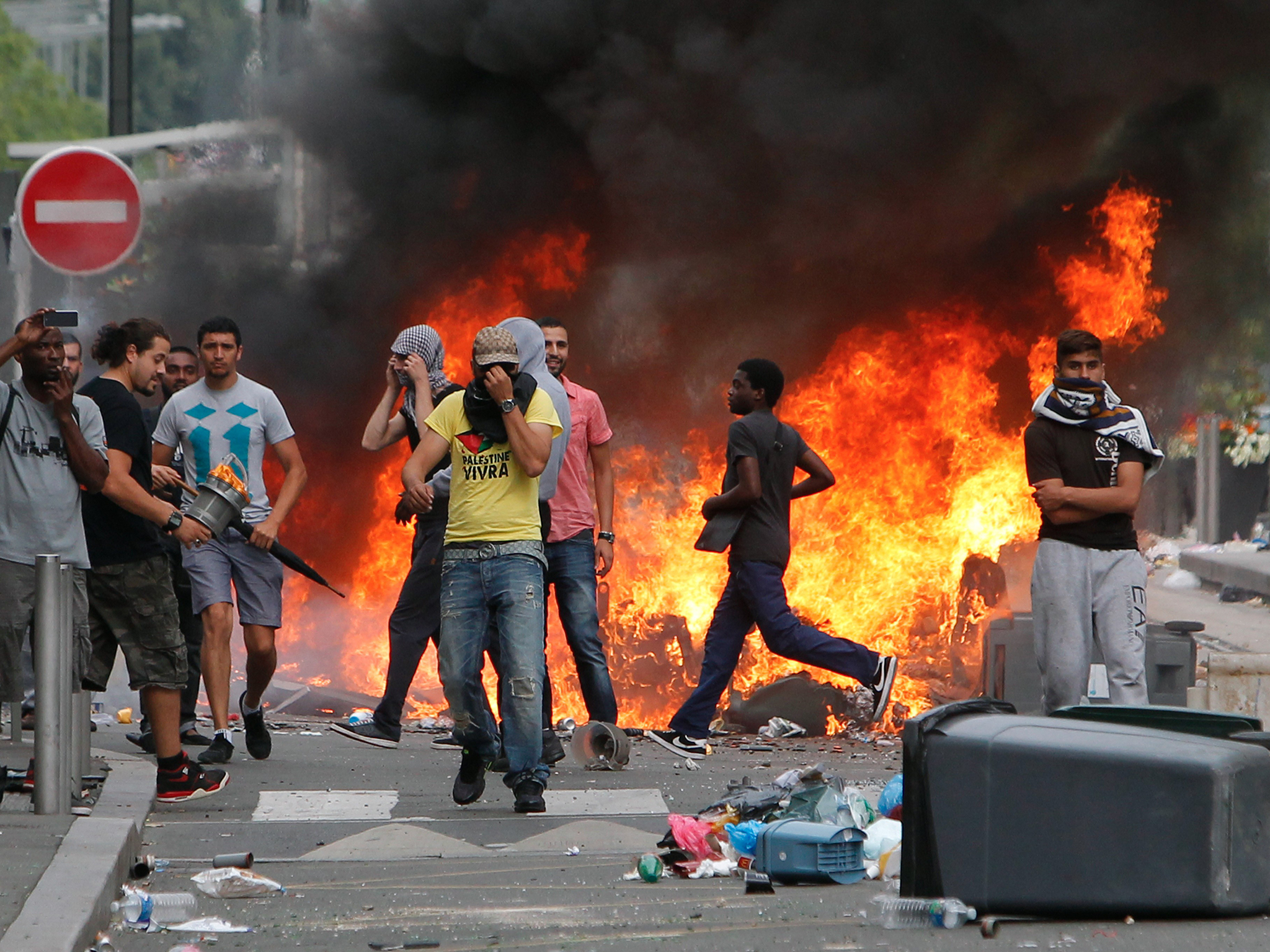 The media is not safe either, a reporter for the French TV company BMTV was injured after being attacked by migrants, and in Bobigny, a van from the RTL news service was attacked and destroyed by fire bombs.  Paris is looking to be more like Mogadishu under war than the once romantic city it was known for just years ago.
French presidential hopeful Marine LePen said "radical" reforms are needed to end the migrant crisis engulfing the bloc, she wants to bring stability and safety back to Europe..
Le Pen urged Italian prime minister Paolo Gentiloni to take action against migrants too, instead of bowing down to leftist Eurocrats have have left the continent in disarray including multiple terrorist attacks by Muslims.
She also warned ISIS jihadists could continue to take advantage of the border chaos, saying: "Border control is essential in the fight against Islamic terrorism."
Paris France Turning Into a 3rd World City, See it While you still can