Two lawmakers have turned a government waste report into an online imitation of college basketball's March Madness.
Sens. Jeff Flake, R-Ariz., and Rand Paul, R-Ky., set up the #SourSixteen Tournament of Waste to highlight what they call some of the worst examples of how government spends taxpayers' dollars.
This was actually kind of fun. This is why the world needs more Rand Pauls. #SourSixteen https://t.co/y1DDnf0Uw9

— Patrick (@PaddyMcOz) March 9, 2017
The contest to select the "Champion of Waste" began Thursday morning. The winner, whether "Team Flake" or "Team Paul," was scheduled to be announced Monday night.
The "tournament" derives from Flake's "Wastebook: PORKémon Go," the latest in the Arizona Republican's series of annual reports detailing what he sees as the most shocking misuses of government funds.
The Flake-Paul bracket system allows participants to vote on which wasteful program is more egregious, until one final winner remains.
The #SourSixteen tournament is winding down- make sure to vote for the most egregious wasteful spending at https://t.co/awCRmdMG73

— Jeff Flake (@JeffFlake) March 11, 2017
Flake released 'Wastebook: The Farce Awakens' in 2015 and has put out similar reports since 2003, when he was in the House, The Daily Signal reported in January.
This is not the first time Flake has turned his waste report into a tournament. In recent years it operated under the name #Egregious8.
This year Flake paired with Paul to create #SourSixteen. Jason Samuels, Flake's communications director, told The Daily Signal in an email:
Senator Flake has been hosting these March Madness-themed tournaments for the past four years, and taxpayers have always seemed eager to join the ongoing effort to put a spotlight on egregious spending in Washington.

Now that he's teamed with Sen. Paul for the Sour Sixteen, we're seeing that enthusiasm reach new levels.
Vote on the worst of government waste. There can only be one #SourSixteen winner! https://t.co/eAFSU71GcL

— Senator Rand Paul (@RandPaul) March 9, 2017
According to Flake's initial press release, hotly contested matchups included:
Lemme Take a Selfie Vs. Pagan Vacation
A $500,000 government grant that studied whether "taking selfies (and smiling) made people happy" battles almost $2 million in spending for "agro-ecotourism projects in Belarus," including a bed and breakfast that features "pagan goat sacrifices."
Supernatural Disaster Vs. Not So Hot
Spending $150,000 to study Alaskans' "personal experiences with the supernatural, including sightings of sea monsters, Bigfoot, and invisible birds" goes up against a $500,000 National Institutes of Health study of "people's tolerance of spicy food" and misuse of "alcohol prevention money to study how to select the best wine."
Facebook Farmers Vs. Clown Show
A $99,787 grant from the U.S. Agency for International Development, used to teach Kenyan farmers "how to Google and use Facebook," was in a tough fight against $324,015 in spending by the Inter-American Foundation to fund a program "to teach poor kids in Argentina the circus arts, in the hopes that they would pursue careers under the big top."
The tournament drew comments on Twitter such as these:
No matter who wins…Tax payers lose! #SourSixteen https://t.co/95yl4Bmh9k

— Benjamin Martin (@bmartin717) March 9, 2017
Everybody vote. I'm pulling for the treadmill fish. #SourSixteen https://t.co/JVrmNExSEV

— domer (@rmdomeni) March 9, 2017
The latest results from the tournament: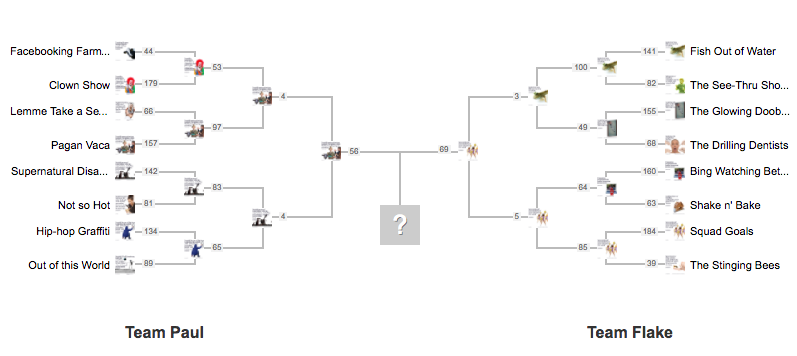 Foes of Government Excess to Pick 'Champion of Waste' in March Madness Parody

,