By Peter Paton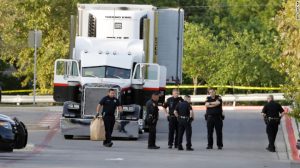 The recent tragic deaths of ten people in the the back of an Walmart lorry in San Antonio in Texas, with over twenty others seriously ill, has highlighted an extremely serious issue of countless Illegals entering America via the Mexican border in the back of vehicles, an explosive and far reaching development which hitherto had gone unnoticed under the political radar of Americans. A subsequent discovery of illegals in the boot of a car in Tuscon, Arizona serves only to magnify the escalating problem.
Make no mistake, America today is Under Siege from a Tsunami of Illegal Immigration on all its porous borders, air terminals, ports and rail depots.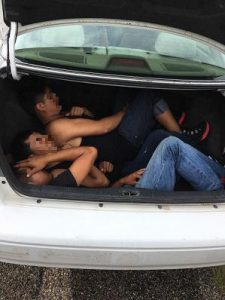 This shocking people trafficking case is likely the tip of the iceberg, and who knows what else may have been propagated under the last eight years of the profligate Obama Presidency, which welcomed illegals from across the American border and elsewhere with open arms, as a blatant means of subverting democracy in the United States, and ensuring a Democrat majority in Presidential, senatorial and gubernatorial elections in the country, because it is a well established fact that illegals by and large vote in their droves for the Amnesty Party of the Left.
It is even more imperative than ever that President Donald Trump initiates his Build the Wall campaign pledge to stop illegal immigration from Mexico into America, maintains his Immigration ban on certain high risk Muslim countries and also continues his Electoral Commission's drive to collect voting data from all fifty states, and brings in Voter ID for all future elections, and prohibits Green Card holders from being able to vote in US Elections, for it is only by undertaking these significant and far reaching measures that the rule of Law, Democracy and Justice will be upheld and preserved in the Republic.
Walmart Texas : America Under Siege by Illegals

,