Yet more proof of Obama administration corruption, Obama Administrations Former Attorney General Loretta Lynch's close aide at the Department of Justice suggested edits to the FBI about the high-profile meeting between Lynch and former President Bill Clinton last year, The Washington Free Beacon reports.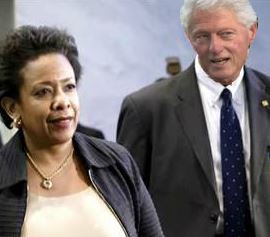 Lynch and Clinton exchanged words on an airport tarmac last summer, during the FBI's investigation into former secretary of state Hillary Clinton's email server. They said it was unplanned event and that that they ran into each other, truth is it was a planned meeting with talking points and the conversation was NOT about the grandchildren as claimed.
"Newly released Justice Department emails show that Paige Herwig, whose title was counselor to the attorney general at the time, helped edit the first media statement responding to inquiries about the tarmac meeting," Susan Crabtree wrote for the Free Beacon.
Former DOJ public affairs director Melanie Newman sent her counterpart at the FBI an email two days after the meeting, just as the media began to report on the story. She included a transcript of Lynch's answers to questions about the meeting asked the day before, and some talking points from the department which were later redacted.
Our talkers on this are below, along with the transcript of the Phoenix presser, where she was asked about this," Newman said in the email. "Happy to discuss further by phone. Please let me know if you get any questions about this. Thanks."
Former FBI Director James Comey admitted in June that Lynch contacted him about the investigation, and "directed" him "not to call it an investigation," according to The New York Times.
"That was one of the bricks in the load that led me to conclude, 'I have to step away from the department if we're to close this case credibly,'" he added.
This meeting proves the Collusion and corruption demonstrated by Democrats, Hypocrisy abounds on the left with the Democrat propaganda media chasing their tails while trying to destroy Trump with baseless allegations.
All this proof right out there about Obama, Clinton crimes add nausea, The MSM and the Dems can only focus on Russia and the unsubstantiated propaganda.