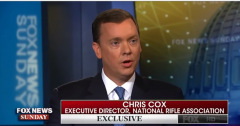 (CNSNews.com) – Chris Cox, executive director of the National Rifle Association's Institute for Legislative Action, accused Hillary Clinton of "hypocrisy" for her stance on gun control and criticism of the NRA, telling "Fox News Sunday" that Clinton "will never spend a moment … without armed security" or "live in a high crime area."
"And the truth is, Hillary Clinton ran as the most pro-gun control candidate in America, and she lost," Cox said, "but she gets an award. She gets an award for hypocrisy, because she will never spend a moment, a breath, without armed security surrounding her for the rest of her life. She will never dial 911.
"She'll never live in a high crime area, but her life is no more valuable than a single mom living in Chicago, working the late shift, who wants to own a gun and carry it to defend herself," he added.
Fox News's Chris Wallace played a video clip of Clinton, saying, "I can't believe one whole political party in the greatest country on earth is totally sold to the gun lobby." That was followed by a clip of House Minority Leader Nancy Pelosi (D-Calif.) saying, "They're going to say, if you give them a bump stock, it's going to be a slippery slope — I certainly hope so."
Cox said he takes Pelosi and Sen. Dianne Feinstein (D-Md.) at their word, adding that Feinstein said "that she had 51 votes in the Senate for Mr. and Ms. America to turn in all of your guns.
"They would do it. Look, the talking points might change for Dianne Feinstein, but the underlying agenda never does," Cox said.
Wallace then played a clip of NRA President Wayne LaPierre saying, "One thing the American public always knows, that the elites always protect themselves and they always protect themselves with guns, and they lecture the American public how you shouldn't do that."
Wallace said he was "put off at the argument that if you believe in gun control, you're an elite."
"I have to tell you, Mr. Cox, I know very few people outside of public officials — she was a former first lady, she was former secretary of state — who have armed bodyguards. One of the few people I know, private people, who has armed bodyguards is Wayne LaPierre," Wallace said.
"Chris, as a law-abiding gun owner, I am armed security, but I couldn't bring a gun into Washington, D.C., because my license gun, because they won't allow me to protect myself."
NRA's Chris Cox: Hillary Clinton Will Never Spend a Moment Without Armed Security

,
Source material can be found at this site.