Taking the private jet to Copenhagen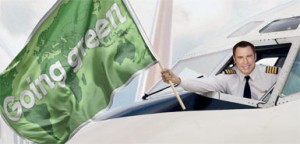 Any celebrity flying the green flag needs glittering eco-credentials. But how do they justify the fleet of customized planes, the luxury homes and the posse of servants?
Hypocrisy is the vice we find hardest to forgive, but it's also the one we most enjoy discovering in others. And nothing piques our interest more than eco-hypocrisy as practised by the "green" celebrities who have been spouting green virtue but spewing out hundreds of tons of carbon from their private jets or multiple holiday homes around the globe.
There was Sheryl Crow, who had called upon the public to refrain from using more than one square of toilet paper per visit ("except on those pesky occasions when two or three are required") and who was leading a Stop Global Warming concert tour across America. It was revealed that while Crow travelled in a biodiesel tour bus, her 30-person entourage followed in a fleet of 13 gas-guzzling vehicles.
John Travolta notoriously encouraged the British public to do its bit to fight global warming — after flying into London on one of his five, yes, five private jets (one of which is a Boeing 707). In 2006 his piloting hobby produced an estimated 800 tons of carbon emissions, more than a hundred times the output of the average Briton, according to the Carbon Trust.
It is less well known that Tom Cruise — who has campaigned for the LA-based environmental group Earth Communications Office — also has an air fleet and a licence to pilot his five planes, including a top-of-the-line customised Gulfstream jet he bought for his wife, Katie Holmes.
Harrison Ford, who is vice-chairman on the board of Conservation International, voices public-service messages for an environmental federation called EarthShare, and once shaved his chest hair to illustrate the effects of deforestation, is another hobby pilot. He once owned a Gulfstream but now makes do with a smaller Cessna Citation Sovereign eight-seater jet, four propeller planes and a helicopter.
Oprah Winfrey, who preaches eco-virtue from her TV pulpit, travelled in a 13-seat Gulfstream IV private jet for years — the preferred model for celebrities and the super-rich. (She has replaced it with a faster Bombardier Global Express.) The public first became aware of her private-jet habit when her plane had to make a forced landing in California in 2005; it was reminded of it this year after one of her stewardesses was fired for allegedly having sex with the pilot while Oprah and other passengers were asleep.
Jennifer Aniston told reporters that to save the Earth's precious water resources she brushes her teeth while in the shower. But she also flew a hairdresser to Europe to accompany her on a recent publicity tour for the film Marley & Me.
Perhaps more egregious, because she is a much more in-your-face global-warming campaigner, is Dame Trudie Styler, film financier and wife of Sting. Not only do she and her husband run seven homes and travel between them in private jets and a fleet of cars, but in 2007 an employment tribunal revealed Styler was furious when her pregnant chef refused to travel 100 miles to prepare some soup and salad. (The chef had regularly made the trip in the past, travelling by train and taxi.) And Sting recently had to contend with accusations that the Police were "the dirtiest band in the world" because of the scale of their last tour and the carbon footprint of the fans who went to see them.
This spring Styler was accused of hiring a private jet to take her and an eight-person entourage from New York to Washington, DC, for the White House correspondents' dinner, even though there are dozens of scheduled shuttle flights she could have taken, not to mention fast trains. Strangely, Sting flew commercial to the same dinner. When challenged, Styler reportedly defended herself by saying: "Yes, I do take planes. My life is to travel and to speak out about the horrors of an environment that is being abused at the hands of oil companies."
U2's latest world tour features three stages and a giant claw that ensures as many spectators as possible get a decent view. Alas, transporting the whole shebang around the world is estimated by carbonfootprint.com to produce the carbon equivalent of the annual emissions of 6,500 British homes — or a rocket trip to Mars and back.
Coldplay's Chris Martin has been fingered as one of music's biggest eco-hypocrites. George Monbiot, a writer and environmental campaigner, noted on his blog that Martin flew thousands of miles on his private jet, including brief trips between LA and nearby Palm Springs. Monbiot calculated that Martin's trips back and forth to see his family produced 250 times the carbon emissions of an average Briton.
Monbiot also cited an interview Martin gave in which he discussed his angry global-warming song, then boasted about his family's profligate private jet use, saying of his daughter: "As she gets older, hopefully she'll come and see us when she wants. I always thought it'd be cool to be in school and say, 'I'm not coming in today — I'm off to Costa Rica to see my dad play.' I do think that wins you a few points." Martin replied to criticism by pointing out that he paid for the planting of mango trees to offset the carbon emissions of his tours and flights home.
There are endless other examples of hypocrisy by green politicos. David Cameron was once photographed virtuously riding his bike to the House of Commons, with his official car behind him, carrying his suit and briefcase. Ken Livingstone, who swore he would make London the world's greenest city when he was mayor, made scores of arguably unnecessary flights to foreign destinations. The supposedly green Barack Obama had a St Louis chef flown 850 miles just to make pizza at the White House.
At the end of the film An Inconvenient Truth, the unbearably earnest former presidential candidate Al Gore asked his audience: "Are you ready to change the way you live?" His own huge Nashville mansion consumed over 20 times the electricity of an average American home. Indeed, according to the Tennessee Center for Policy Research, it burnt twice as much power in the month of August 2006 than most American homes do in an entire year. Another inconvenient truth revealed that the former senator spent $500 a month just to heat the indoor swimming pool in his lavish domestic establishment. The 100ft houseboat he bought in 2008, on the other hand, was said to be powered by biodiesel.
Gore gave the usual response of the green celebrity caught not practising what they preach. He said he made up for his consumption of electricity and production of carbon dioxide by buying carbon offsets — some from his own offset company.
SUVs and four-wheel-drive cars are another eco-sin green celebs find hard to resist. Those who have harangued the public against driving these wicked vehicles — but who turn out to have recently owned at least one themselves — include Barbra Streisand, Gwyneth Paltrow and Cameron Diaz.
Of course, the SUV is often parked next to a virtuous Toyota Prius hybrid electric car, but the former doesn't exactly cancel out the latter. However, as one Hollywood agent told me, the real reason so many people in Tinseltown drive a Prius is because "it's the only car you can drive which costs under $35,000 which doesn't make everyone think that your career has gone down the toilet".
It was just as green activists began worrying about eco-fatigue — the green equivalent of compassion fatigue — two years ago that the first wave of celebrity eco-hypocrisy stories hit. The first thing these stories did was make us feel better about our own relatively minor eco-failings. They also allowed us to vent the irritation we feel about being lectured by actors, rock stars and lesser species of celebrity.
There is something annoying about the way "ordinary" people are being told they must give up their "addiction" to cheap travel, when no leading Hollywood star — not even Leonardo DiCaprio, who often flies commercial — can bring themselves to relinquish the private jet.
Yet there is something absurd about criticising celebrity eco-hypocrites. People who become film stars and rock gods usually do so because they want to join the jet set, and the jet-set life is inherently wasteful. It's the profligacy that makes it fun and gives it its status. They are unable to give up their private jets because celebrity status is connected to travelling in the most exclusive way possible. Hence, just about all the things celebrities do to get away from "civilians" are unsustainable in green terms.
There are notable exceptions to the rule of green-celebrity hypocrisy. Ed Begley Jr from St Elsewhere and Best in Show became a vegan in 1970, bought one of the first electric cars, and has lived for years in a self-sufficient house that uses not just solar and wind energy but a toaster powered by a stationary bicycle. And unlike so many green celebrities, Begley Jr has a sense of humour about his crusade: on an episode of The Simpsons in which he plays himself, he is shown driving a vehicle powered entirely "by my own sense of self-satisfaction".
The famous neo-hippie Woody Harrelson lives in a sustainable community in Hawaii, grows most of his food, uses only solar power, wears hemp clothes, eschews animal products, and fuels his car with biodiesel. Brad Pitt has done more than tell other people how to change the planet. His charity Make It Right New Orleans has built 13 ultra-energy-efficient greenhouses in an area devastated by Hurricane Katrina.
The Copenhagen summit next week will generate vast quantities of hot air. It will see 16,500 people coming in from 192 countries. That amounts to 41,000 tons of carbon dioxide, roughly the same as the carbon emissions of Morocco in 2006. Also, the organisers will lay 900 kilometres of computer cable and 50,000 square miles of carpet. More than 200,000 meals will be served and visitors will drink 200,000 cups of coffee — at least that will be organic.
When asked if the carbon footprint might have been reduced by turning Copenhagen into a video conference, a spokesman for the event said: "For such a major agreement, people need to meet together and negotiate face to face. We have delegates from all over the world. Video-conferencing systems are extremely useful, but they don't match the personal touch. This is one of the main factors in having a good conference."
Some of the charges laid against celebrities who are allegedly hypocritical about their green commitments are either unfair or don't really stand up when examined closely. In 2008, Sting took a lot of flak when a US watchdog organisation, Charity Navigator, rated his Rainforest Foundation as one of New York's worst charities. This was because only 41% of almost $2.2m raised at a Rainforest Foundation concert made its way to projects on the ground.
But while many leading charities spend at least 75% of their income on projects rather than fundraising and salaries, it is normal for charity concerts and balls to cost almost as much as they raise. Many of the better-known mega-charities spend a shockingly large amount of what they get from the public on fundraising, image advertising and swanky offices, but are not subject to the same scrutiny as organisations set up by a superstar.
It is also worth looking at the agenda of the green critics who slam celebrities for their eco-hypocrisy. They believe anything short of the immediate adoption of a pre-industrial way of life akin to that of peasant villages in the Middle Ages is a sellout. For them, Sting's Rainforest Foundation is unforgivably capitalist.
Perhaps it is better that public figures say the right thing, even if they are not doing it themselves. Does it really matter that much that those who ask us to behave better are imperfect in their own behaviour? You could argue that if Trudie Styler believes that GM food, which she fiercely campaigns about, is a bigger threat than global warming, she is entitled to do so, and to fly her organic non-GM products from her Tuscan estate to the counters of Selfridges.
After all, it seems fairly clear that celebrity advocacy of green lifestyles does actually work, at least in the sense that it has made green concerns extremely fashionable.
Some of the nastiest accusations of hypocrisy have been thrown at the Prince of Wales. The "Green Prince" has been mocked for, among other alleged crimes, chartering a plane to South America to raise eco-awareness. Prince Charles's spokespeople responded saying it would have been impossible to make 48 appointments across three countries in 10 days by regularly scheduled flights.
Unlike the common run of "green celebrities", at least the Prince of Wales publishes annually an exhaustive green audit of all his homes and activities. Its content includes the paper usage of his household, the fact that his thirsty Aston Martin runs on bio-ethanol from wine wastage, and that his emissions for non-official travel are less than half of what they were two years ago.
If film stars and rock stars followed his lead by publishing their own eco-audits, the public might be more likely to listen to their exhortations.