by Daniel Pipes
November 30, 2009
Cross-posted from National Review Online: The Corner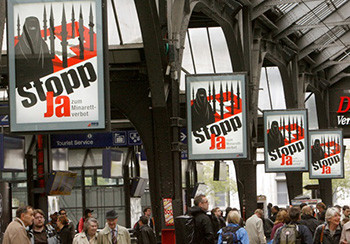 Zurich's main train station had many posters in favor of the minaret ban. Credit: Arnd Wiegmann
On one level, the vote to ban minarets in Switzerland is a triviality. The constitutional amendment does not ban mosques, it does not pull down the country's four existing minarets, nor does touch the practice of Islam in Switzerland or bear on the many issues concerning Swiss Muslims. In all likelihood, the political establishment in Bern, which abominates the amendment, will find some way to overturn it.
But on another level, the 57.5 to 42.5 percent vote represents a possible turning point for European Islam, one comparable to the Rushdie affair of 1989. That a large majority of those Swiss who voted on Sunday explicitly expressed anti-Islamic sentiments potentially legitimates such sentiments across Europe and opens the way for others to follow suit. That it was the usually quiet, low-profile, un-newsworthy, politically boring, neutral Swiss who suddenly roared their fears about Islam only enhances their votes' impact.
Nov. 30, 2009 update: Responding to this analysis, Matthew Yglesias of ThinkProgress writes that I see it as "a good thing" that the Swiss explicitly expressed anti-Islamic sentiments. I do? I did not write that. My intent in this brief comment was objectively to note the impact of the Swiss vote, not to condemn or condone it. Re-read my words and that is what you find there, with no hint of my personal view about the vote being "a good thing" or even a bad thing.
Comment: Yglesias' manimpulation of my words fits into a long and ignoble tradition in which Leftists distort my words or my intent. I collected some of the most egregious examples at "Mangled by Leftists and Islamists."