Mortgage Execs' Hefty Salaries To Be Disclosed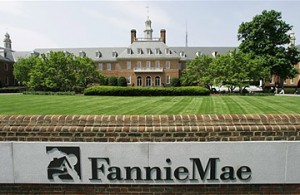 Federal regulators plan to disclose Thursday that the top executives of government-controlled mortgage finance companies Fannie Mae and Freddie Mac each earned between $4 million and $6 million this year, two people briefed on the matter said.
The people, who declined to be identified because the announcement was not yet public, said Wednesday that the pay packages were approved by the Treasury Department and the Federal Housing Finance Agency, which regulates Fannie [ FNM 1.0401 -0.0099 (-0.94%) ] and Freddie [ FRE 1.2601 -0.0499 (-3.81%) ].
A spokeswoman for the housing finance agency declined comment Wednesday night.
Fannie and Freddie, which were seized by regulators in September 2008, have needed $111 billion in taxpayer aid to stay afloat.
Salaries for executives at companies receiving taxpayer assistance have been a politically explosive issue, and the disclosure could provoke a new round of criticism of the government's numerous bailouts.
The pay packages for Fannie's CEO, Michael Williams, and Freddie CEO Ed Haldeman are expected to be similar to each other and are to be paid in cash because the companies shares are nearly worthless. Fannie and Freddie also plan to disclose pay packages for several other senior executives.
Salaries for executives at Fannie and Freddie are not subject to approval by the government's pay czar Kenneth Feinberg, but the arrangements still need to be scrutinized and approved by regulators.
Freddie Mac hired Haldeman, a former mutual fund executive, in July. At the time, the company disclosed his annual salary of $900,000 but did not disclose other incentive payments. In September, it hired a new chief financial officer, Ross Kari, and said his pay package would be worth up to $5.5 million.
Williams, formerly Fannie Mae's chief operating officer, took over as CEO after the first government-appointed CEO, Herbert Allison, took a job at the Treasury Department. Williams earned a base salary of $676,000 last year, plus a retention award of $260,000.