By: Jim Meyers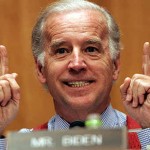 Vice President Joe Biden said Americans can expect more attempted Islamic terrorist attacks like the one by the so-called underpants bomber, who tried to detonate explosives on a Detroit-bound jet on Christmas Day.
In an interview with CNN's Larry King that aired Wednesday night, Biden said he thinks an attack on the scale of 9/11 is unlikely. But he anticipates attempts at smaller "but devastatingly frightening attacks."
"I think what you're seeing morphing here — and it's a concern to us — is you'll see the concern related to somebody like a shoe bomber or the underpants bomber, the Christmas attack, or someone just strapping a backpack on them with weapons that are indigenous and blowing up, you know, walking into an airport," Biden said.
"I think there are going to be attempts."
President Obama has castigated the U.S. intelligence agencies for failures that allowed 23-year-old Nigerian Umar Farouk Abdulmutallab to board the Northwest Airlines jet with explosives sewn in his underwear.
But Biden insisted that the Obama administration, which has ordered a review of security procedures following the Christmas incident, is prepared to deal with similar attempts, Politico reported.
Biden also told King that the stimulus bill has created "a minimum of 1.6 million" jobs, adding that "by the spring, I think people are going to begin to have more confidence in the policies we've put in place."
Biden declared regarding the appeal of Sarah Palin: "I don't know that it represents anything approaching a significant portion of the population." But he said: "I like her. She's an engaging person. She has a great personality.