by Daniel Pipes
December 10, 2009
updated Feb 8, 2010
Just as Islamists aspire to transform religious symbols, marriage, schools, medical facilities, and other institutions in the West, so they are gunning for public transportation. I have covered two aspects of the taxi wars – liquor and dogs; this weblog entry notes other interesting developments, in reverse chronological order:
________________________________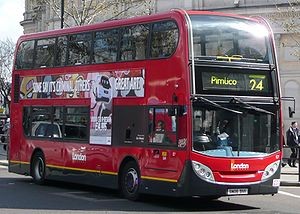 A bus on London's route 24.

 
Bus driver locks passengers and prays: Noting it was prayer time, a Muslim bus driver on route 24 in Gospel Oak, north London, silently and abruptly stopped his bus, locked the doors, removed his shoes, laid his jacket down in the aisle as a prayer mat facing Mecca, and for five minutes prayed audibly. On finishing, and he wordlessly resumed driving. The passengers, trapped on the bus, unable to get on or off, witnessed this event in stunned silence. One passenger, Gayle Griffiths, 33, recounts what happened:
Everyone was looking round in a mix of shock and amazement. When he had finished, he just got back up and set off again – all without any explanation or apology. It was truly bizarre, ludicrous and aggravating. We are delayed often enough as it is in London. … It even went through my mind that this might be some sort of terrorist attack with the bus blown up because I had heard that suicide bombers prayed before attacks.
The driver received a reprimand (February 8, 2010)
Don't let that police dog lick me! The Muslim distaste for dogs has moved from taxis to mass transportation and from commercial to security grounds. As the Metro Vancouver Transit Police Service makes plans to deploy bomb-sniffing dogs on buses and SkyTrains in time for the winter Olympics, some Muslims are protesting.
Shawket Hassan, the vice-president of the B.C. Muslim Association, says he wants to make sure the dogs will not touch passengers during searches, which could lead to problems, particularly for Muslims heading to a mosque to pray. "If they touch the body, then there is a probability they will leave some saliva on the clothes. If I am going to the mosque and pray, or doing something that way, and I have this saliva on my body … I have to go and change or clean." But Hassan stressed that Muslims have respect for all animals, including dogs, and they have no objections to using the dogs for security. "This is a step we would support, but … we would like to be informed."
(December 10, 2009)