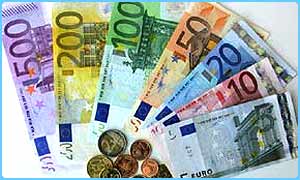 By: Dan Weil
The €uro, which has tumbled to an eight-month low against the dollar, may drop even more, says Claudio Piron, head of Asia currency research for JPMorgan Chase.
European ministers at the recent Group of Seven (G7) nations meeting said they will make sure Greece acts to cut its huge budget deficit.
The market's pattern after such statements is to stabilize briefly.
But, "We're coming to an end of that window," Piron told Bloomberg.
"The market is getting increasingly nervous. I think we've got quite a bit of volatility ahead of us."
Short €uro positions on the Chicago Mercantile Exchange have risen to a record of $8 billion. And that total could rise.
"We could have even more short euro positions in the market," Piron said. "This is by no means the limit of the speculation at the moment."
To be sure, Piron isn't looking for the euro to plunge.
"I don't think we're necessarily at the precipice of a big fall for the €uro, but we can have more shorts establish themselves in the market."
Others are concerned about Europe's economic health as well.
"The risk of contagion is a real one," Scott Thiel, head of European fixed income at BlackRock, told The New York Times.
"Investor sentiment is now focused on countries like Spain and Portugal, where fundamentals are weakest