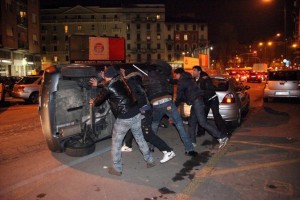 MILAN (corriere.it) – Dozens of Muslim immigrants from North Africa rioted during the night in a multi-ethnic district of Milan, smashing shop windows and overturning cars to protest at the knifing death of an Egyptian, Italian police said on Sunday.
It was the second episode of violence involving Muslim immigrants this year, after clashes in southern Italy in January brought about the worst racial violence in the country since World War Two and reignited a long-running debate on immigration.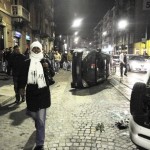 The rioting began on Saturday evening after a 19-year-old Egyptian man, identified by police as Hamed Mamoud El Fayed Adou, was killed, apparently by a group of immigrants from South America.
Police said the North Africans, most of them Muslim Egyptians, went on a rampage and some clashed with police in the northeastern neighborhood where some 70 percent of shops are owned by immigrants.
Milan's deputy mayor, Riccardo De Corato, called the area a "Wild West between north African and South American gangs."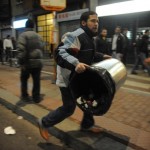 Police said they had identified more than 30 people involved, most of them Egyptian. Ten Egyptians did not have regular residence permits, and four have been detained.
They were still searching for the South Americans believed to have been responsible for the killing, which they said took place after an argument on a city bus.
The Northern League, an anti-immigrant party in Prime Minister Silvio Berlusconi's center-right coalition, called for the immigrants responsible for the violence to be expelled from Italy immediately.
ITALIANS CALL FOR EXPULSIONS
One Northern League member called for stiff controls and "expulsions house by house, floor by floor."
Milan, Italy's financial capital, is run by a center-right regional government and the opposition said that such riots showed that the government's immigration policy was in tatters.
"They (the center-right) govern the country, the (Lombardy) region and the city," said Pierluigi Bersani, head of the largest opposition party, the Democratic Party. "They should accept the fact that their policy on integration and security has failed."
Italy's government last year approved tough legislation making it a felony to be an illegal immigrant or to help one. Immigrants without regular papers risk expulsion to their country of origin.
In early January, riots broke out in the Calabrian town of Rosarno when immigrants burned cars and broke store windows to protest against an attack on African farm workers by a gang of local white youths.
At least 53 people, including 18 policemen, were injured in the unrest in the town, located in Italy's southern toe.
Authorities moved hundreds of people, mostly illegal temporary workers from sub-Saharan Africa, to immigrant centers in Italy for their protection.
France has it problems from Muslim riots around Paris, Malmo Sweden also has it many problems, area's so bad police are afraid to enter.