Melee reportedly broke out with no provocation from Christians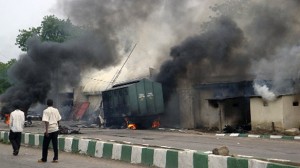 An angry Muslim mob attacked Christian-owned shops and houses, burned down eight churches and injured several people in the northern Nigerian town of Kazaure. But the melee was prompted by a Muslim police officer who had a dispute with a Muslim citizen, according to a group that monitors persecution of Christians.
The Muslim police officer pulled over a Muslim for a traffic violation Feb. 21, but the driver became angry and refused to stop, explained International Christian Concern's Jonathan Racho. The police officer then pursued the driver, caught up with him and assaulted the driver after forcefully removing him from the car.
The driver was taken to the hospital where he was pronounced dead upon arrival.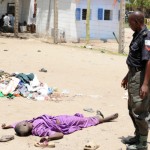 Tension in the region has been high since last month's Muslim rioting in Jos where 300 people reportedly were killed, human rights activists report.
"The driver died from his wounds received from the police officer. But it's important to note that this has nothing to do with any of the area's Christian residents," Racho explained. "It was a traffic incident, and neither the police officer nor the driver were Christians."
Racho said the Muslim mob "came together and tried to attack the police station."
"When they couldn't do that, they turned their attention to the Christians in the city. They burned down several Christian shops and a church."
Racho said Muslim mobs frequently have attacked Christians in mostly Muslim northern Nigeria.
"Any provocation from Christians is enough. But this time there was no Christian involvement. This time it's clear that there was absolutely no connection between this incident and the anti-Christian violence," he said.
Racho believes the attacks will continue in northern Nigeria because of the political climate.
"In northern Nigeria, all of the government officials are Muslims. The law is Shariah law and particularly designed to stop the spread of Christianity," he said.
"So there is already a hostile environment for Christians in northern Nigeria. So, any excuse they can find to mobilize will be used to attack and persecute Christians," said Racho
The Nigerian government has not responded to requests for comment on this story.
Last year, for the first time, a U.S. secretary of state designated Nigeria a "country of particular concern," guilty of particularly severe violations of religious freedom under the International Religious Freedom Act of 1998.
"Years of inaction by Nigeria's federal, state and local governments has created a climate of impunity, resulting in thousands of deaths," the U.S. Commission on International Religious Freedom, the USCIRF, said in its current annual report.
The USCIRF, an independent body established by Congress to help fulfill the 1998 legislation, sent a team to Nigeria last year to "assess religious freedom conditions" in the country.
"Concerns include an ongoing series of violent communal and sectarian conflicts along religious lines; the expansion of sharia (Islamic law) into the criminal codes of several northern Nigerian states; and discrimination against minority communities of Christians and Muslims," the commission's report said.