STATE-WIDE TAXPAYERS REVOLT UNDERWAY!
GOLDEN STATE GRINGOS LAST GULP!
Paul L. Williams, Ph.D.- thelastcrusade
Immigration limitation activists have initiated a statewide petition drive to get the California Taxpayer Protection Act on the ballot.
If passed, the measure will serve to eliminate the lure of birth tourism and to limit the financial, social, and vocational benefits afforded to illegal aliens who produce offspring on US soil. Such "anchor babies" become instantaneous US citizens and their parents become eligible for Medi-Cal, food stamps, public welfare, public housing and a host of other entitlement programs that are bankrupting the state and the federal government.
At present, illegal aliens receive 18 years of welfare checks for every anchor baby.
Sweeping in its implications, the California Taxpayer Protection Act ct would halt non-emergency medical aid— including the taxpayer-funded pre-natal care that has actually been advertised across Mexico and other countries by migrant advocacy groups—and would limit the state welfare payments that illegal immigrant parents collect on behalf of their citizen-children to five years.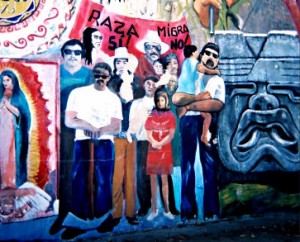 Is the California Taxpayer Protection Act necessary?
Consider the following facts reported by the Los Angeles Times:
1. 40% of all workers in L. A. County ( L. A. County has 10.2 million people) are working for cash and not paying taxes. This is because they are predominantly
illegal immigrants working without a green card.
2. 95% of warrants for murder in Los Angeles are for illegal aliens.
3. 75% of people on the most wanted list in Los Angeles are illegal aliens.
4. Over 2/3 of all births in Los Angeles County are to illegal alien Mexicans on Medi-Cal, whose births were paid for by taxpayers.
5. 35% of all inmates in California detention centers are Mexican nationals here illegally.
6. Over 300,000 illegal aliens in Los Angeles County are living in garages.
7. The FBI reports half of all gang members in Los Angeles are most likely illegal aliens from south of the border.
8. 60% of all occupants public housing in L.A. County are illegal.
9. 21 radio stations in Los Angeles are Spanish speaking.
10. In L. A. County 5.1 million people speak English, 3.9 million speak Spanish. (There are 10.2 million people in L. A. County).
11. 65% of all births at Los Angeles General Hospital are to illegal aliens.
12. 70% of all births at Joaquin General Hospital are to illegal aliens.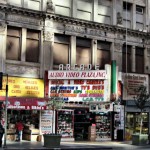 Arriving in Los Angeles from Tijuana, visitors might believe they are still in Mexico. The storefronts and the street venders are flush with Latino goods, including turquoise and pink statues of Our Lady of Guadalupe, sugar skulls, wayu hats, la Calavera tee shirts, and la Muerte field bags.
Some innovative merchants spread popcorn in the gutters in order to capture street pigeons which they cage and sell at the bargain rate of five for $10 before the closed art-deco theaters on Broadway.
Within the subway system, ceramic murals depict the gringo settlers as the spoilers of Hispanic haven of California. The villains in the murals are James K. Polk (who presided over the Mexican-American War), Kit Carson (who guided Stephen Kearny's soldiers into California), and the forty-niners – – the prospectors who "invaded" California during the gold rush.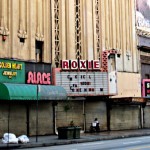 Broadway – – the street which housed the grand art-deco movie palaces of the studio days – – has become transformed into a barrio. Some of the palaces have been transformed into Hispanic churches; others into Latino flea markets.
In 1940, Harry Chandler, editor and publisher of the Los Angeles Times and one of southern California's most prominent real estate developers, spoke of his city as "the white spot of America," a place free of crime, communism, and non-white races.
Mr. Chandler was many things – – prescient not being one of them.