by Daniel Pipes
March 16, 2010
updated Mar 22, 2010
According to a flattering profile about her, Linda Sarsour of Brooklyn has "got her hands in everything" as director of the Arab American Association of New York, the Coordinator of Community Initiatives for the YWCA Brooklyn, a member of the Coalition for Muslim School Holidays, a Palestine activist, and an "activist for women and immigrants." On March 10, she was even honored as one of "Brooklyn's Extraordinary Women" by the borough's district attorney.
Whew. Being so busy, Sarsour surely must find it difficult to keep her facts straight. She's twice discussed me in recent interviews: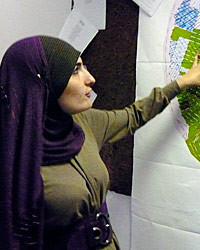 Linda Sarsour, too busy to get her facts straight.

 
"Rallying Arab America," June 2009: "I get excited when Daniel Pipes writes about me. He's my publicist. When someone says you have a 'powerbase' that's like you walk down the street and have a million man march behind you. People want to talk to me all the time after he wrote all that crazy shit about me."
"Arab Brooklynite Linda Sarsour Holds Her Own." March 16, 2010: "hatemongers like Daniel Pipes and Emerson Vermaat and others have tried to paint me as a Hamas Sympathizer and they have failed miserably. They actually have helped my career in so many ways. For them to think that I am so important of a person, so influential, that they tried to take me down, has actually made me just that – an important and influential person in the Arab and Muslim community nationally. I am frequently contacted by local, national and international media as an expert on Arab and Muslim issues or to gain the perspective of an Arab and Muslim – so THANK YOU Mr. Pipes!"
YOU'RE WELCOME, Ms Sarsour!
There's just one little problem with these two quotes. I hate to pop Sarsour's balloon, but until this blog I never wrote about her. Indeed, until today, I'd never even heard of her. So, whatever great things you have achieved, Linda, you did them on your own, without benefit of help from me.
Comments:
(1) Could it be that, in her haste, Sarsour confused me with PipeLineNews.org, a self-described "boutique news service" founded in 1999 that provides "vital information regarding national security matters, including the culture war, the rise of radical Islam and the 'stealth jihad'." Emerson Vermaat is on the PipeLineNews.org masthead and one of its articles both calls Sarsour a Hamas sympathizer and says she has "a power base in Brooklyn's Bay Ridge district."
(2) Sarsour ought to shower PipeLineNews.org, not me, with her affections.
(3) A normally literate person should be able to distinguish between PipeLineNews.org and Daniel Pipes.
(4) What's it about those who disagree with me that they imagine me doing and saying things that are provably false? (For many other examples, see here and here.) It may irritate me but it damages them. Time to stop, gang. Get your facts straight. (March 16, 2010)
Mar. 22, 2010 update: Emerson Vermaat states today: "I never accused Linda Sarsour of anything nor do I happen to know her."