by Daniel Pipes
March 27, 2006
updated Mar 28, 2010
It's hardly news that Republicans view Israel more favorably than do Democrats – I wrote about this pattern in 2000 in "The Friendly Republicans" and have even speculated (in "Arabs and Jews Sorting Themselves Out Politically in the United States?") that Jews will eventually settle in the Republican party. But now the Gallup Poll provides more detailed proof than ever before about the calibrations of American attitudes toward the Jewish state. In an article titled "Republicans and Religious Americans Most Sympathetic to Israel," Frank Newport and Joseph Carroll establish its nearly linear quality from right to left. Here are replies to the question, "In the Middle East situation, are your sympathies more with the Israelis or more with the Palestinians?"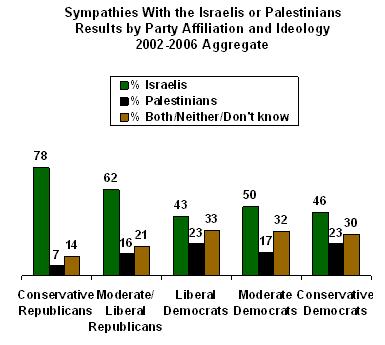 The Gallup Poll on ratios of favorable:unfavorable views of Israel.
Overall, they found 72 percent of Republicans and 47 percent of Democrats sympathize more with Israelis than Palestinians. The trends become more dramatic once one teases out the sub-views; note the marked diminishment of support for Israel as one goes across the political spectrum, as measured by how many times more sympathy Israel getsets: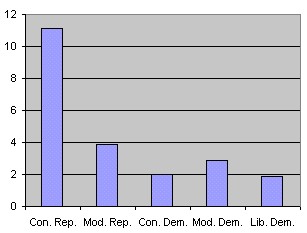 11.1 – Conservative Republicans
3.9 – Moderate/Liberal Republicans
2.0 – Conservative Democrats
2.9 – Moderate Democrats
1.9 – Liberal Democrats
With the exception of one irregularity (why are moderate Democrats more pro-Israel than conservative Democrats?) the pattern is consistent, even if the numbers fall off dramatically:
Comment: It is surprising – and heartening – to note that liberal Democrats still support Israel by a nearly 2-to-1 ratio. It sure doesn't seem that way. (March 27, 2006)
May 23, 2006 update: I build on this weblog today at "Democrats, Republicans, and Israel."
July 20, 2006 update: Richard Baehr draws some interesting conclusions about the differences between the two parties in response to the hostilities in Lebanon. He notes that the two parties "reflects some consensus, but also two very different views on the meaning of the conflict in this theatre, and more broadly, between the West and radical Islam." In more detail:
Both Democrats and Republicans have defended Israel's actions in protecting its borders against cross border attacks and stopping rockets fired by the terrorist group Hezbollah from southern Lebanon. … Almost as if supplied by talking points by the DNC (as I am sure they were) Democrats on the various talk shows have quickly tried to change the subject from defending Israel (which may carry some risks with Muslim and Arab voters) to the "failed war in Iraq" and how the current conflicts in the Middle East are a result of the President's failure to engage in diplomacy in the Israeli-Palestinian conflict. Both Senators Chris Dodd and Joe Biden took this approach in their appearances on the talk shows. …

Various Republicans on this week's talk shows, Newt Gingrich, John McCain, and George Allen among them, have provided the links among Israel's fight, our battles in Iraq and Afghanistan, India's fight with Islamic terrorists over Kashmir, and other Muslim-Western conflicts around the globe (find a conflict, and it's a good bet that it fits this pattern). Seeing a bigger picture, and accepting that war is sometimes the answer, is different than a philosophy that follows the dictum that the best policy is to always turn down the temperature and stop the fighting. Senator McCain said of the Iranian nuclear program that attempting to take out this program by military means would be a terrible thing, but not as bad as seeing Iran succeed in completing its program. This of course, is not a defense of bad wars, or unnecessary wars, or poorly conducted wars. …

for many on the left, war, any war, is the ultimate evil, not tyranny, or Nazism, or Communism, or Islamic fascism. On that, their disagreement with the President and his party is profound. Scarier still, is the more hard line anti-Israel sentiment now floating freely on the hard left websites, such as dailykos. Some of the site's writers seem to feel about Israel the way Iran's President does. At every anti-Iraq war rally the past few years, anti-Israel signs have always been prominent. The two movements (anti-Iraq war, and anti-Israel) are now firmly linked on the left. It will be a fundamentally different Democratic Party that emerges if the netroots and the hard left take over. And no one can say they couldn't see it coming.

For now, the leadership of both major parties is standing firmly with Israel in this fight. But if the fight goes on very long, this coalition may fray a bit as some Democrats feel pressure from the left and hear the cooing sounds of UN peacekeepers and "peace," and get more nervous about civilian casualties and "disproportionate" responses, and fall for the bromides of the war is never the answer crowd.
Comment: I agree with Baehr's analysis and worry that today's cross-party agreement is fragile and perhaps temporary.
July 26, 2006 update: A NBC/WSJ survey carried out on July 21-24 by Hart/McInturff asked 1,010 Americans "In the Middle East situation, are your sympathies more with Israel or with the Arab nations?" With a +/- 3.1 percent margin of error, it found Israel ahead by a 7-1 ratio:
Israel – 57%
Arab nations – 9%
Both – 9%
Neither – 15%
Not sure – 10%
The breakdown by political party was not made public but the Republican Jewish Coalition has the figures and made them available to me:
Republicans:
Israel – 81%
Arab nations – 1%
Both – 3%
Neither – 8%
Not sure – 5%
Democrats:
Israel – 43%
Arab nations – 12%
Both – 13%
Neither – 18%
Not sure – 14%
Comments: (1) The contrast between the parties appears to be growing wider. (2) Beyond the obviously huge difference in ratios (81-1 v. 3.5-1), it bears noting how many more Republicans know their mind (82 percent) than do Democrats (55 percent). Turned around, Democrats are both less pro-Israel and more ambivalent.
Aug. 2, 2006 update: A Los Angeles Times/Bloomberg poll released today asks three questions pertaining to the current Hizbullah-Israel war, then breaks down responses by party, with Democrats in the first column and Republicans in the second.
As you may know, Israel has responded to rocket attacks from the Lebanese group, Hezbollah by bombing Beirut and other cities in Lebanon. Do you think Israel's actions are justified or not justified? (IF JUSTIFIED) Do you think Israel's response is excessively harsh or not?"

Justified, not excessively harsh 29 64
Justified, but excessively harsh 20 11
Unjustified 36 17
Don't know 15 8

As you may know, the United States is a long-time ally of Israel. Which of the following statements comes closer to your view: "The United States should continue to align itself with Israel" or "The United States should adopt a more neutral posture" or "The United States should side more with the Arab countries"?

Continue to align with Israel 39 64
Adopt a more neutral posture 54 29
Should side more with Arab countries 2 1
Don't know 5 6

As you may know, the United States has not called for an immediate ceasefire in Lebanon between Israel and Hezbollah, but has said that a ceasefire should wait until an international peacekeeping force can be assembled. What do you think? Should the U.S. call for an immediate ceasefire, or should the U.S. continue to work toward both sides accepting an international peacekeeping force, or should the U.S. not get involved in the fighting between Israel and Hezbollah?

U.S. call for an immediate ceasefire 17 9
U.S. work toward both sides
accepting international
peacekeeping force 39 56
U.S. not get involved in the
fighting between Israel and
Hezbollah 40 30
Don't know 4 5

 
Comment: To me the most interesting result is the "Continue to align with Israel" one. The same, massive 25-percent difference separates the parties, no matter how the question is asked, but the number in either party favoring the Arabs over Israel is trivial.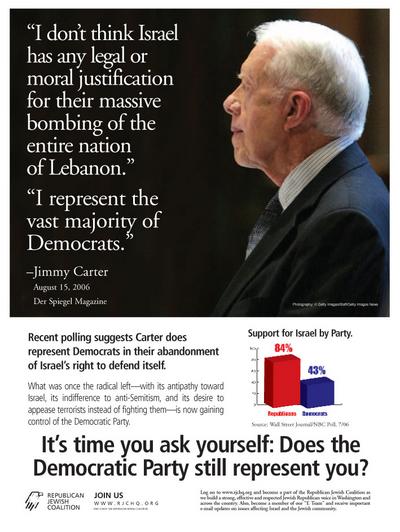 A Republican Jewish Coalition advertisement. 
Aug. 4, 2006 update: As the Hizbullah-Israel war continues, the predicted party differences are coming to the surface, at least in Florida, site of a poll of 1,007 likely Republican and Democratic voters commissioned by the Miami Herald and carried out by Zogby International. The poll has a margin of error of 4.5 percent.
A quarter of Republicans and 54 percent of Democratic voters say Israel has gone too far in its campaign.
39 percent of Republicans and 27 percent of Democrats, with 17 percent and 14 percent unsure, respectively, say the bombing campaign is just right.
19 percent of Republicans and 5 percent of Democrats say the Israeli response to Hizbullah should be harsher.
The article, by Marc Caputo, also paraphrases Khaled Saffuri (whose name is misspelled as Khaled Suffari), Grover Norquist's associate, with the interesting observation that Arabs and Muslims "have found it almost impossible to make it into Republican circles ever since Sept. 11," a problem he blames on what he calls the "Fox News syndrome," In Saffuri's simplistic analysis, Republicans watch Fox "and it's like brainwashing."
Sep. 6, 2006 update: Republican Jewish Coalition Executive Director Matt Brooks notes the sort of evidence presented here and concludes: "We are seeing a disturbing trend in the Democratic Party today, one that the American Jewish community needs to take note of. Democrats are increasingly turning their backs on Israel, and have done so even in the midst of Israel's efforts to stop Hezbollah from bombing Israeli cities."
Sep. 21, 2006 update: According to Ed Lasky, in a lengthy analysis of the "The Democratic Party and the Jews" in the American Thinker:
Developments in the Democratic Party bode ill for the Jewish people and for the state of Israel – home of up to 40% of the world's remaining Jewish population. The rank and file of the Party has become increasingly anti-Semitic and support for Israel has noticeably fallen. Democratic Congressmen have reflected this trend in very visible ways: their votes and actions in Congress reveal that support for Israel has eroded in alarming ways. Furthermore, more than a few Democratic Congressman have openly made statements that are either clearly anti-Semitic or can be fairly construed to be at least, "anti-Semitic in effect, if not intent".
Jan. 1, 2007 update: Gabriel Schoenfeld of Commentary reviews the situation in "Jews, Muslims, and the Democrats" and comes to similar conclusions. With regard to representative-elect Keith Ellison, called "Louis Farrakhan's First Congressman," he writes:
Both the ease with which Ellison was able to glide through this controversy and the remarkable lack of discomfort his candidacy appeared to cause among his fellow Democrats point to the larger significance of his election. For the simple fact is that in certain respects he is not alone: the past decade or so has seen the formation of a group of 40 to 50 Democratic Congressmen who, in varying degrees of intensity, have felt free to express an uninhibited hostility toward the Jewish state.
Mar. 3, 2008 update: A Gallup poll of American attitudes toward various countries finds Israel at a stratospheric 5th, following only Canada, Great Britain, Germany, and Japan, with a 71 percent approval rating. Republicans clock in at 84 percent favorability and Democrats at 64 percent.
In contrast, the Palestinian Authority has the third lowest ranking, beating out only Iran and North Korea with 14 favorable (and 75 percent unfavorable).
Dec. 31, 2008 update: Israel's war on Hamas finds dramatic differences between Ds and Rs, according to the Rasmussen Reports:
Sixty-two percent (62%) of Republicans back Israel's decision to take military action against the Palestinians, but only half as many Democrats (31%) agree.
A majority of Democrats (55%) say Israel should have tried to find a diplomatic solution first, a view shared by just 27% of Republicans.
While 75% of Republicans say Israel is an ally of the United States, just 55% of Democrats agree.
Seven percent (7%) of Democrats say Israel is an enemy of America, but only one percent (1%) of Republicans say the same.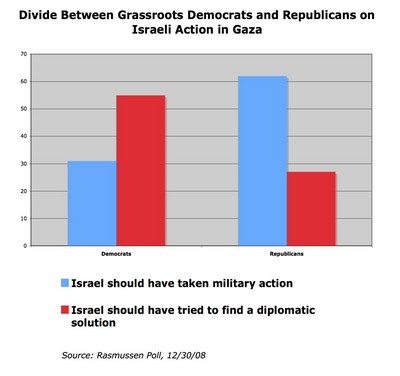 Rasmussen Reports poll on Democratic and Republican views of the Arab-Israeli conflict. 
Jan. 27, 2009 update: Sixty House members wrote a letter today to U.S. Secretary of State Hillary Clinton in which they "respectfully request that the State Department release emergency funds to UNRWA for reconstruction and humanitarian assistance" in Gaza. Interestingly, every one of the sixty is a Democrat, not one is a Republican. That amouonts to nearly one-quarter of the House Democratic caucus. Also noteworthy: the list includes some of the most left-wing Democrats in the House such as Dennis Kucinich, Barbara Lee, and Maxine Waters.
Apr. 27, 2009 update: Caution is the word when the untrustworthy James Zogby writes up the unreliable polling of Zogby International, but for what they are worth, ZI's numbers track with other polls cited above.
"Which is more important to the United States, relations with Israel, the Arabs, or both?" Of voters for Obama, 7 percent say Israel, 17 percent say the Arabs, and 68 percent say both. Of voters for McCain, 46 percent say Israel, 3 percent the Arabs, and 48 percent say both.
The recent war in Gaza widened the gap in perception. Half of Obama supporters said that war made them less supportive of Israel and two-thirds of McCain voters said it made them more supportive of Israel.
What should policy be? Of voters for Obama, 10 percent say he should support Israel, 6 percent want support for the Palestinians, and 73 percent advocate that he "steer a middle course." Of McCain voters, 60 percent want the president to support Israel, an undisclosed number are for the Palestinians, and 22 percent want a balanced approach.
Engage with Hamas? Obama voters say yes by a 67-16 percent margin; McCain voters say no at a 79 percent rate.
Get tough with Israel? Of Obama voters, 80 percent yes but 73 percent of McCain voters say no.
A Palestinian right of return? Obama voters agree by 61-13 percent, while McCain voters disagree, 51-21 percent.
Jerusalem be divided and serve as the capital of two states, or remain under sole Israeli control? Obama voters prefer the former option while McCain voters "overwhelmingly" want Jerusalem to serve as the undivided capital of Israel.
Remove Jewish residents from the West Bank? A majority of Obama voters say yes, a majority of McCain voters say no.
Zogby concludes from these numbers that "traditional U.S. policy toward the Israeli-Palestinian conflict does not have bipartisan backing. In fact, as the two parties have evolved over the past thirty years, and as the issue itself has evolved – since Oslo – each of the two parties have moved in different directions." Reluctant as I am to ever agree with Zogby, I have written along these same lines many times and so must concur with his assessment.
May 1, 2009 update: This item is not about Israel but it bears on it: Survey research shows that Democrats blame Jews for the economic meltdown far more than do Republicatns, report Neil Malhotra and Yotam Margalit in "Anti-Semitism and the economic crisis." They conducted a study of 2,768 American adults in which they explored "people's responses to the economic collapse and tried to determine how anti-Semitic sentiments might relate to the ongoing financial crisis." Their survey asked respondents "How much to blame were the Jews for the financial crisis?" and offered five replies: a great deal, a lot, a moderate amount, a little, not at all. They found that 24.6 percent of non-Jewish respondents blamed Jews a great deal, a lot, or a moderate amount.
Democrats were especially prone to blaming Jews: while 32 percent of Democrats accorded at least moderate blame, only 18.4 percent of Republicans did so (a statistically significant difference). This difference is somewhat surprising given the presumed higher degree of racial tolerance among liberals and the fact that Jews are a central part of the Democratic Party's electoral coalition. Are Democrats simply more likely to "blame everything" thus casting doubt on whether the anti-Jewish attitudes are real? Not at all. We also asked how much "individuals who took out loans and mortgages they could not afford" were to blame on the same five-point scale. In this case, Democrats were less likely than Republicans to assign moderate or greater blame.
June 13, 2009 update: William Kristol comments on the above results: "In a survey administered by (apparently) liberal academics, looking at attitudes not towards Israel or Likud but towads Jews per se – Democrats are almost twice as likely to be hostile to Jews than Republicans."
June 13, 2009 update bis: Adam Hasner, majority leader of the Florida House of Representatives and Florida Jewish outreach chairman for the McCain Campaign in 2008, argues in an article today that "The Era of Bipartisan Support for Israel is Over." Excerpts:
The best days of Democrat support for Israel have now passed. The evidence is abundant and clear that the importance of Israel's existence and well-being has become secondary to the political idolatry of many Jewish-American Democrats. Furthermore, many Jewish voters who do have Israel's best interests among their priorities are too often duped by the maze of activists and institutions that use Jewish concepts and credentials to manipulate support for their liberal agenda. Despite all of the lofty pronouncements regarding respect for the America-Israel relationship, all species of partisan support are not equal.
Hasner then goes on to skewer the policies of Barack Obama vis-à-vis Israel.
June 15, 2009 update: A Greenberg Quinlan Rosner Research poll of covered 800 registered American voters conducted last week for The Israel Project found that 65 percent of self-identified Republicans support Israel and just 3 percent for the Palestinians; independents favor Israel over the Palestinians by 50 percent to 9 percent; and Democrats do so 38 percent to 9 percent.
Asked whether Israel's new government is committed to peace, 56 percent of Republicans answered in the affirmative, as did 49 percent of independents and 42 percent of Democrats.
Asked about Israel's right to "defensible borders," Republicans assented 64 to 12 percent, independents 58 to 20 percent, and Democrats 45 to 33 percent.
Jan. 26, 2010 update: 54 Democrats and not a single Republican signed a letter to Barack Obama initiated by Keith Ellison and Jim McDermott urging him to take steps in favor of Hamas-ruled Gaza and inimical to Israel's security interests. A host of anti-Israel groups also signed on. The letter asks that Obama "advocate for immediate improvements for Gaza in the following areas" and then lists ten ways to ease up on Hamas.
Mar. 25, 2010 update: The National Journal runs a weekly poll of conservative and liberals bloggers (in which I take part). This week's poll incuded a question on the U.S.-Israel relationship: "Assess the Obama administration's recent dealings with Israel." The answers provided were "Too tough," "About right," and "Too lenient." Seventeen bloggers on each of the left and right took part. Strikingly, 12 of the conservatives thought it "Too tough" and not a single liberal agreed.
For the record, I replied "Too tough" and added this comment: "Aficionados of Middle East history will recall the Algerian Dey's fly whisk incident of 1827."
Mar. 26, 2010 update: Four years ago, based on political trends, I wrote of my expectation that bipartisan U.S. support for Israel is coming to an end. Rather than the friendly argument over who is the better friend of Israel, Bill Clinton or George W. Bush, "a major shift [in policy will occur] whenever the White House changes hands from one party to the other."
That point appears to be upon us. Indicative of this almost un-noticed shift is a throw-away line by Janine Zacharia in the Washington Post where she notes that, given Binyamin Netanyahu's poor relations with the Obama administration, some Israelis expect he will "search for ways to buy time until the midterm U.S. elections in hopes that Obama would lose support and that more pro-Israel Republicans would be elected."
That an Israeli leader awaits one U.S. party to defeat the other marks the dawn of a new age, and not one favorable to his country. As I put it in 2006, "As the political consensus breaks, Israel will be the loser."