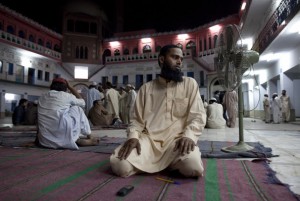 Thousands of former Hamas members have switched their loyalties, and now belong to a Salafi terrorist group inspired by Al-Qaeda, a Gaza terrorist told the Palestinian Authority-based Maan news agency.
The Muslim terrorist, Abu Al-Hareth, is the founder of Jund Ansar Allah, a Salafi group that has clashed with Hamas and challenges its control of Gaza. There are more than 11,000 Salafists in Gaza today, Hareth claimed, 70 percent of them former members of Hamas.
The once-Hamas, now Salafi terrorists are termed Jaljalat, he said. Jund Ansar Allah is one of the four groups comprising the Jaljalat; the others are Jund Allah, A-Taweed wa-Jihad, and the Army of Islam (Jamat Jaish al-Islam).
The Army of Islam was behind the kidnapping of Israeli soldier Gilad Shalit, who was later turned over to Hamas. It also kidnapped British journalist Alan Johnston, who was released unharmed after several weeks in captivity.
The Jaljalat is not officially linked to Al-Qaeda but is influenced by its worldview and models itself after Al-Qaeda cells in Iraq, Afghanistan and elsewhere, Hareth said. Its followers obey religious figures such as Shiekh Abu Mohammed al-Maqdisi, a senior figure in Al-Qaeda's Iraq branch.
Hamas and Al-Qaeda: From Cooperation to War
As the Shalit kidnapping demonstrates, the Salafi groups once worked alongside Hamas, and carried out "qualitative military attacks, during which a number of Israelis were killed," Hareth said.
Recently, tensions have developed between Hamas and the Salafis. In 2009, Jund Ansar Allah declared an "Islamic emirate" in Gaza. Hamas declared war on the group and for hours a battle raged around a Salafi mosque in Gaza town of Rafiah. When the smoke cleared dozens were dead, including Salafi leader Abdel-Latif Moussa.
Following the battle, Al-Qaeda offshoots around the world accused Hamas of "abandoning Islam" and called for revenge.
Hamas continues to battle the Jaljalat, Hareth states, monitoring its members and often conducting arrests. The Jaljalat, for its part, accuses Hamas of failing to enforce Sharia (Islamic law) in Gaza.
The Salafis and other rival terrorist groups have increasingly challenged Hamas rule in Gaza. Salafist groups have carried out dozens of bombings targeting restaurants, music stores, and other businesses deemed "un-Islamic," while members of Fatah's Al-Aksa brigades have carried out attacks on Israel without coordinating with the Hamas leadership. (IsraelNationalNews.com)