NEW YORK – Stocks plunged around the world Tuesday as fears spread that Europe's attempt to contain Greece's debt crisis would fail. The euro fell to its lowest point against the dollar in a year.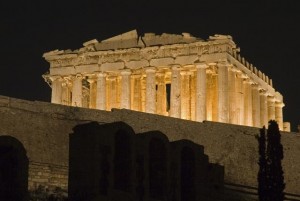 The Dow Jones industrial average fell about 245 points, erasing its 143-point gain from Monday. The Dow and broader indexes each fell more than 2 percent. Treasury prices rose on increased demand for safety investments.
Stocks have seesawed in the past week as Europe's efforts to agree on a bailout package for Greece proceeded in fits and starts. An agreement finally came together over the weekend, but its ballooning size of $144 billion has investors worried that Europe would have an even tougher time assembling an aid package if a larger country such as Spain or Portugal were to get in trouble.
The market's plunge wasn't a surprise to some analysts who have warned for weeks that stocks were due for a big pullback. After Monday's rally, the Standard & Poor's 500 index was up almost 14 percent from its 2010 low of 1,056.74, reached Feb. 8. Investors have spent the past three months largely shrugging off the problems in Europe and focusing instead on the continuing signs of improvement in the U.S. economy.
One of the market's concerns now is that weakening economies in Europe could jeopardize the recovery in this country.
While Greece's economy is small, investors worry that other cash-strapped European governments could follow Greece into asking for emergency loans. Markets have been increasingly skeptical that Europe can act on its own restore the credibility of its shared currency, the euro.
"Everybody is worried about who is going to be next," said Scott Fullman, director of derivatives investment strategy for WJB Capital Group in New York.
The euro again fell against the dollar as traders turned away from the currency, which is used by 16 European Union countries including Greece. Investors have punished the euro over the past few months over doubts that Europe would be able to enforce fiscal discipline in Greece and other weak countries in the region in order to protect the euro.
"You are having a lot more discussions about possible contagion," said Anthony Chan, chief economist at J.P. Morgan Private Wealth Management in New York, referring to the prospect of a wave of bad debt spreading to other countries. "More people are raising questions about what was done in Greece will be sufficient."
Chan said the problems in Greece aren't yet large enough to pose a major risk to a global rebound. Instead, traders are selling while they wait for answers about how the financial woes in Europe will be resolved.
In midafternoon trading, the Dow fell 245.24, or 2.2 percent, to 10,906.59, its lowest level in about a month. It had been down as much as 283 points at its low of the day, its biggest drop since Feb. 4.
The slide was the Dow's fifth move of more than 100 points in the past six days. The Dow jumped 143 points Monday after falling 159 on Friday.
The Standard & Poor's 500 index fell 29.59, or 2.5 percent, to 1,172.67. The Nasdaq composite index fell 76.76, or 3.1 percent, to 2,421.98.
Investors rushed to safety holdings like Treasurys, pushing down yields. The yield on the benchmark 10-year Treasury note fell to 3.63 percent from 3.69 percent late Monday.
The Chicago Board Options Exchange's Volatility Index, which is known as the market's fear gauge, rose 14 percent. That is a signal that more investors are betting on big drops in the market.
The dollar rose against other major currencies, especially the euro. The euro sank as low as $1.3038 in New York, its weakest point since April 2009. It was worth $1.3212 late Monday and had traded as high as $1.51 last November, before the extent of Greece's debt crunch had become apparent.
The rising dollar is a negative for investors because it would cut into profits for U.S. companies with sizable foreign operations. Profit growth is the ultimate driver of stock prices so a sense that earnings might falter could make it harder for the market to climb. When the dollar is up, overseas profits translate into less money. The stronger dollar also makes it more expensive for foreign buyers to purchase commodities like oil. That hurts demand.
Crude oil fell to $3.46 to $82.73 per barrel on the New York Mercantile Exchange.
The drop in commodities hurt companies like aluminum producer Alcoa Inc., which fell 61 cents, or 4.6 percent, to $12.54. Caterpillar Inc., the maker of construction and mining equipment, lost $3.19, or 4.6 percent, to $66.75.
Banks also fell on concerns about the debt problems. Spain's Banco Santander S.A. fell 94 cents, or 7.7 percent, to $11.28. Bank of America Corp. fell 36 cents, or 2 percent, to $17.70.
Meanwhile, protests erupted throughout Greece against the spending cuts the country has promised to make to receive the bailout loans. A general strike has been called for Wednesday. Greece agreed on Sunday to slash public spending by $40 billion to secure the loans.
Mike Shea, managing partner at Direct Access Partners LLC in New York, said investors are concerned that the bailout for Greece and possibly other countries could threaten a rebound in other parts of Europe.
"It's not as though even the strongest economies of Europe are doing particularly well," Shea said. "Why is a plumber in Germany going to bail out Greece or Portugal?"
Upbeat economic reports were of little help to stocks.
The Commerce Department said orders to U.S. factories rose 1.3 percent in March. Analysts expected a drop. The National Association of Realtors said its index of sales agreements for previously occupied homes rose a stronger-than-expected 5.3 percent in March.
About six stocks fell for every one that rose on the New York Stock Exchange, where volume came to 912 million shares compared with 700 million traded at the same point Monday.
The Russell 2000 index of smaller companies fell 22.25, or 3 percent, to 710.57.
Britain's FTSE 100 and Germany's DAX index each dropped 2.6 percent, and France's CAC-40 tumbled 3.3 percent. Greece's main index fell 6.7 percent, while Spain's Ibex 35 index lost 5.4 percent. Portugal's PSI 20 fell 4.2 percent.