by Daniel Pipes
May 16, 2010
updated May 17, 2010
News that Rima Fakih, 24, of Dearborn, Michigan, won the Miss USA beauty pageant today prompts me to recall some prior instances of Muslim women winning beauty contests in Western countries.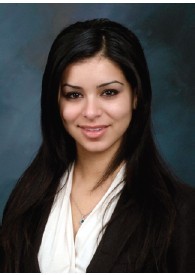 Rima Fakih .  
Juliette Boubaaya, 19, was Mlle Picardie in 2009.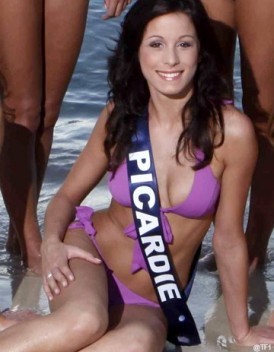 Julliette Boubaaya.  
Nora Ali was America's Junior Miss in 2007.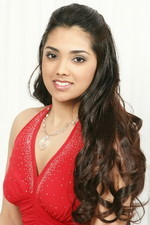 Nora Ali.  
Hammasa Kohistani, 19, was Miss England in 2006.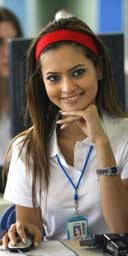 Hammasa Kohistani.  
Sarah Mendly, 23, was Miss Nottingham in 2005.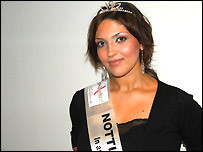 Sarah Mendly.  
They are all attractive, but this surprising frequency of Muslims winning beauty pageants makes me suspect an odd form of affirmative action.  
My suspicion is borne out by the selection of Anisah Rasheed as Miss A&T at North Carolina Agricultural and Technical State University. From the news report about her success:  
Excited and jittery, Anisah Rasheed of Roanoke pondered a fashion dilemma that few beauty queens have faced before: Matching her coronation gown with her hijab. … Rasheed, 20, was crowned Miss A&T for 2005-06 on Thursday night in a sparkling fishtail gown—with a tiara glittering over her golden hijab—during homecoming ceremonies at North Carolina A&T State University.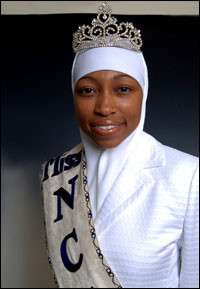 Anisah Rasheed.  
---
May 17, 2010 update: Several readers have written in response to this blog. One notes that, on a more serious level, affirmative action appears to play a role in some of the Nobel Prizes.  
A second reader reminds me of the adventurous career of Georgina Rizk (b. 1953), Lebanon's first and only Miss Universe.  
Rizk was born in Beirut to a Christian household. She was crowned in the Miss Universe pageant in 1971 in Miami Beach, Florida. … In the pageant she made a memorable fashion statement by wearing a very revealing top and hotpants. Georgina was married to Ali Hassan Salameh, a Palestinian national with Black September, who was assassinated in 1979 by the Mossad.  

In the 1972 Miss Universe pageant in Dorado, Puerto Rico, Rizk was not allowed to attend due to government restrictions because of fears of a terrorist attack. These fears were triggered when, two months prior to the pageant, bombings occurred outside the hotel in which Miss USA was then staying. Lebanon also did not send a delegate to the pageant that year.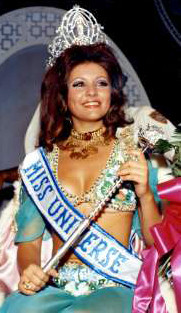 Georgina Rizk.  
A third writes:  
No surprise here. Affirmative action was first applied in beauty contests for  black women to win in the 1980s, then it was the turn of Latin, brown skinned women, and now it's Muslims. That's why most people ignore these rigged "events." They are money losers and require controversy.  
May 17, 2010 update bis: This little blog has set off a thunderstorm on the left, with dozens of surly and hostile comments attacking me for raising the question posed about affirmative action in beauty pageants. Somebody doth protest too much.  
From the day's rich panoply of nastiness, I'll focus on one response in particular, by Benjamin Sarlin in the unfornuately-named Daily Beast website. On the one hand, Sarlin typifies the extravagance of my critics:  
A number of conservative bloggers, including Daniel Pipes, a Bush appointee to the U.S. Institute of Peace and adviser to Rudy Giuliani's 2008 presidential campaign, are slamming the Miss USA organization for rigging the contest in the name of political correctness.  
USIP? Giuliani? Slamming? Rigging? Dear Reader: Review my sparse commentary above and show me, please, what justifies this barrage. Why can't my critics disagree without exaggerating to the point of distortion? And Sarlin is hardly the most egregious of today's hurrumphers and hystericals.  
I quoted Sarlin because, to his credit, he alone did some actual reporting:  
A spokeswoman for the Miss USA competition, Lark-Marie Anton, told The Daily Beast that Fakih's critics were way off base and the contest was conducted fairly. "The panel of judges selected Rima as the winner," Anton said in an email. "I don't believe this has anything to do with affirmative action and I am saddened by the ignorance surrounding her multicultural heritage."  
And what should a Miss USA representative say – acknowledge that the judges did favor an Arab-Muslim candidate? Hardly. Still, it amuses me that Lark-Marie Anton seems to accuse me of "ignorance surrounding her multicultural heritage." What have been doing these past 41 years but studying that "multicultural heritage"?