Ten alleged Russian spies have been arrested in the United States, the result of a multi-year investigation in four states, the FBI said Monday.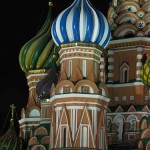 Eight of the 10 arrested were "carrying out long-term, 'deep-cover' assignments" the FBI said, while two had lesser roles in the Russian intelligence program. The arrests took place Sunday in Montclair, N.J., Yonkers, N.Y., Manhattan, Boston, and Arlington, Va.
The New York and New Jersey defendants were expected to appear in federal court in Manhattan Monday. The Virginia defendants were to make court appearances in Alexandria.
One additional defendant has been charged but remains at large.
Their job, according to the court papers in the case, was "to search and develop ties in policymaking circles" in the United States.
Criminal complaints state that the defendants had an overarching goal of becoming highly "Americanized" so as to be able to freely gather intelligence in the U.S. and to "recruit sources who are I, or are able to infiltrate United States policy-making circles."
The U.S. government intercepted a message from Russian intelligence headquarters in Moscow to two of the defendants, Richard and Cynthia Murphy.
"You were sent to USA for long-term service trip," the message from Moscow. "Your education, bank accounts, car, house etc. – all these serve one goal: fulfill your main mission, i.e. to search and develop ties in policymaking circles in US and sent intels," the message added.
The complaint states that such agents – known as "illegals" – are highly trained in "foreign languages; agent-to-agent communications, including the use of brush-passes; short-wave radio operation and invisible writing; the use of codes and ciphers, including the use of encrypted Morse code messages; the creation and use of a cover profession; counter-surveillance measures" and more.