LOS ANGELES (MarketWatch) — A top Chinese central bank official suggested switching away from the U.S. dollar as a benchmark for the yuan's foreign-exchange rate, switching instead to a basket of currencies, according to remarks published Thursday.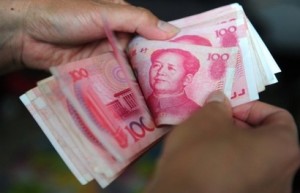 In comments posted to the People's Bank of China Web site, the central bank's Deputy Gov. Hu Xiaolian said using a basket of currencies from the nation's top trading partners would allow the Chinese yuan to better reflect trading fundamentals.
"Compared with pegging to a single currency, the exchange-rate regime with reference to a basket of currencies will help adjust exports and imports, current account, and balance of payment in a more effective manner," she said.
China's central bank currently sets a "central parity rate" against the U.S. dollar each day, with that day's trading range confined to 0.5% above or below that level.
But Hu said focusing on the dollar-yuan rate ignored China's bigger trade picture.
"A floating exchange rate has impact on total imports and exports of an economy," she said. "Therefore, the floating cannot be aimed to adjust [only the] bilateral trade balance, and it is not advisable to just look at the [dollar-yuan] exchange rate."
China wouldn't have this problem of finding the appropriate "benchmark" if they didn't intervene in their currency market and just let the yuan find its own value. What they are really saying is that because they have fixed their currency against the U.S. dollar and because the €uro has fallen against the U.S. dollar, they are losing market share in Europe.