Paul L. Williams, Ph.D.– If you are a Muslim suicide bomber in Germany and have second thoughts about carrying out your mission, we have good news for you.
You can call the suicide bomber hotline at 0221/792-699 and receive immediate advise from trained advisers.
The hotline is called HATIF, meaning "telephone" in Arabic and has been set up to provide guidance to Muslims who want to abandon the jihad against all non-believers.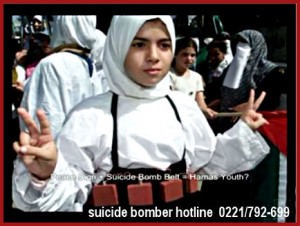 "The primary goal of HATIF is to prevent violence in the name of Islam," states the German Federal Constitution Protection Office.
A spokeswoman for the German domestic intelligence agency says that all callers will be granted absolute anonymity and that no tips will be related to counter-terrorism units or law enforcement officials.
The amount of money that the German government has set aside for this unique endeavor remains a mystery, also unknown is the number of employees standing by to take the incoming calls.
"Our program is an offer for those who want to leave extremism behind," one program official told the Associated Press. "Once we find out what their needs are, we will develop the program accordingly," she said. The program will also reportedly help family members and friends of people who have come under influence of extremists.
"We know that in almost all of these groups, there are people who want to leave, but it is not easy to get out of such an environment," says Peter Neumann, an expert from the International Center for the Study of Radicalization and Political Violence in London. "Therefore it is great that Germany makes this offer even though this definitely won't lead to the end of radical Islam in Germany." Neumann also mentioned that no such program exists anywhere else in Europe.
There are approximately 36,000 Islamist extremists presently in Germany, many are considered to be potentially violent.
The Muslim population in Germany has climbed to 4.3 million, making Muslims account for 5.2 per cent of the country's population.
The new government service is offered in Arabic, Turkish, and German.
Those who do not wish to call may receive help and discouragement by sending an e-mail to [email protected], or by visiting http://www.verfassungsschutz.de/en/index_en.html
After the terrorist attacks of 11 September 2001, the Bundesamt für Verfassungsschutz (BfV / Federal Office for the Protection of the Constitution) has clearly intensified its efforts to look into Islamic extremism and Islamist terrorism.
In view of the extensive threat posed by Islamist terrorism, we would like to address all fellow citizens, especially those of the Muslim faith, and ask you for your assistance:
* Do you know of any planned acts of violence or terrorist attacks?
* Do you know anybody who is involved in the planning of acts of violence or terrorist attacks?
* Do you know of anybody being recruited for such planning?
Your hints can be of great significance for us and may save human lives. You can contact us under the following phone number:
+49-221-792-3366
This hotline is staffed 24 hours a day. Monday to Friday from 9.00 a.m. to 3.00 p.m., callers can be attended in Turkish or Arabic. Confidentiality is granted.