Michelle Obama thinks being America's First Lady is 'hell', Carla Bruni reveals today in a wildly indiscreet book.
Miss Bruni divulges that Mrs Obama replied when asked about her position as the U.S. president's wife: 'Don't ask! It's hell. I can't stand it!'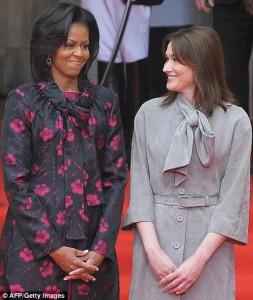 Details of the private conversation, which took place at the White House during an official visit by Nicolas Sarkozy last March, emerged in Carla And The Ambitious, a book written in collaboration with Miss Bruni.
In it, she says one term as French president 'will be enough' for her husband and suggests he might take tips from his friend Tony Blair: 'Why not start making money?
That's some of the the dish served by Bruni, in her new tell-all book. In "Carla and the Ambitious," which the U.K. Daily Mail newspaper reviewed for Thursday editions, Bruni quotes the first lady's lament, among many other revealing episodes with global leaders and French paparazzi.
Bruni, a singer and former model, apparently collaborated on the book with writers Yves Derai and Michael Darmon as a push-back to an unauthorized biography of the wildly untraditional political spouse that was released Wednesday. Bruni's book is due out on Friday