A Democratic lawmaker signed onto a Republican petition to repeal healthcare reform.
Rep. Gene Taylor (D-Miss.) signed onto a discharge petition drafted by Rep. Steve King (R-Iowa), Taylor's office confirmed. His office would not offer any additional comment.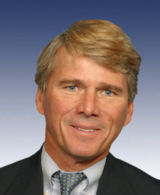 Taylor is the first Democrat to sign onto the petition, a reflection of the tough electoral climate facing Democrats this fall, especially over healthcare reform.
"Adding Rep. Taylor to the discharge petition is a significant step towards repealing Obamacare," said King. "Rep. Taylor is the first Democrat to sign the discharge petition, and it is my hope that his decision will pave the way for other Democrats who support repeal to break ranks with Speaker Pelosi and President Obama."
Taylor had voted against the bill on final passage, along with 34 other Democrats.
Republicans have made repealing healthcare reform a key part of their midterm election messaging; House Republican Conference Chairman Mike Pence (R-Ind.) called repealing the law a "mainstream" GOP position earlier on Wednesday.