Rome, (AKI) – European airports and other transport hubs are on "high alert" amid fears of a spate of attacks by Algerian female suicide bombers, Israeli intelligence website Debka said on Wednesday, citing counter terrorism sources.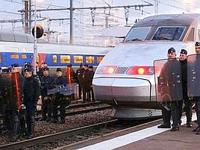 Security has been stepped up at London's Heathrow, Amsterdam's Schiphol and airports in Mocow, Berlin and Rome, as well as at major European railway and underground stations, Debka said.
The commander of French police and security services Frederic Pechenard said on radio Wednesday they had "serious evidence coming from reliable intelligence sources telling us there is a risk of a major attack."
Al-Qaida in North Africa was targeting France in particular, he said.
The threat included "the assassination of an important figure or an attempted mass casualty attack on a crowded public area like a metro train or department store," Pechenard said.
One of the main prospective targets for the suicide bombings is reportedly the Gare du Nord station in Paris, where trains depart for London and cities in Italy, Belgium and Switzerland.
Besides French intelligence, Debka said the "reliable sources" referred to by Pechenard were Algerian intelligence DGDS, Algerian military intelligence, the Moroccan DST and the United States AFRICOM which coordinates anti-terror activities against Al-Qaeda in the Horn of Africa and the Sahara region.
Debak said these sources had reported that Al-Qaeda in North Africa (AQIM) had assigned to Europe and France in particular a number of Algerian jihadist women trained to carry out suicide bombings on trains and stations.
Security has been massively stepped up at St Pancras International Train Station in central London and on England's four mainline rail services. Security has also been ratcheted up on the Eurostar service, connecting London to Paris, Brussels, Amsterdam and major cities in Germany, Debka said, citing "our counterterrorism sources."
"A single bomber aboard one of the Eurorail multi-country links could wreak havoc along the entire line," Debka said.