The unfolding foreclosure-processing debacle is causing bank stocks to slide and putting millions of delinquent borrowers in limbo.
But how disruptive the crisis ultimately becomes—for homeowners, the housing market and the broader economy—depends on how quickly a number of technical problems and legal challenges are resolved in the months ahead.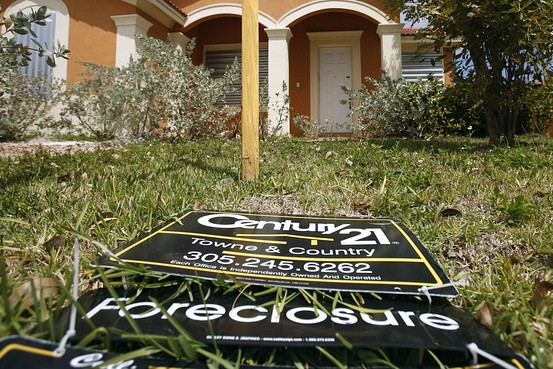 In essence, fast-paced modern finance is colliding with the much slower machinery of the U.S. legal system. While finance aims for efficiency and maximized profits, the courts demand due process. And that's becoming a growing issue as lenders come under attack for taking short cuts to oust homeowners who haven't mailed in a mortgage check for months.
Banks stocks were hammered on Friday for the second straight day as investors continued gauging the sector's exposure to higher operating and legal costs.
Bank of America Corp. shares lost nearly 5%. Shares of Wells Fargo & Co. also fell nearly 5%, while J.P. Morgan Chase & Co. fell 4% and Citigroup Inc. lost nearly 3%. And the cost of protecting against the default of bank bonds continued to surge.
BofA and J.P. Morgan said they temporarily suspended foreclosure sales as they review procedures, while other big banks have said they are reviewing files but haven't promised to freeze foreclosures. But even here, bankers are having trouble slamming on the brakes.
Banks still are referring some loans to foreclosure in states where they issued suspensions, despite the moratoria. This week in Illinois, Florida and Ohio, Bank of America and J.P. Morgan Chase continued proceedings that allow them to sell foreclosed homes at public auction, according to court clerks.
A J.P. Morgan spokesman said Friday that "we have asked our local foreclosure attorneys not to seek judgments." Bank of America said on Oct. 8 that it would "stop foreclosure sales until our assessment has been satisfactorily completed." On Friday, a bank spokesman said that its cancellations only cover foreclosure sales scheduled between Oct. 9 and Oct. 31 because it doesn't expect the review to take longer. BofA's moratorium includes all 50 states, while J.P. Morgan's covers 41 states.
The financial system and legal system have been on a collision course for some time in residential real estate. Both the lower standards for loans and the lax controls involving foreclosures were based on the premise that home prices would never fall, making it unlikely that many loans would go bad at once. Once that premise fell apart, the flaws in the system became obvious, and the long-term challenge now facing lenders is to rebuild the mortgage system on more solid footing.
Banks argue that these problems will be repaired swiftly, and they'll soon be running the foreclosure machinery at full speed again. But analysts say the problems could expand into a legal crisis if banks can't prove that they are following standard property-law procedures.
Lawyers, politicians and consumer advocates, meanwhile, are using the legal problems to stop foreclosures and extract settlements for troubled borrowers that lower their mortgage debt.
Industry executives note that few, if any, borrowers in the foreclosure process dispute the fact that they're not paying their mortgages. "We're not evicting people who deserve to stay in their house," James Dimon, J.P. Morgan chief executive, told analysts Wednesday.
But the banks' "reassurance is not reassuring," says Susan Wachter, a professor of real estate at the University of Pennsylvania's Wharton School, because it doesn't deal with how easily they can prove ownership of the underlying mortgages.
The legal drama partly represents the clash between a financial sector that developed electronic processing to speed up procedures versus the U.S. property-law system, which relies on physical paperwork filed by individuals.
There are two different problems. The first resulted after lawyers for troubled borrowers discovered that banks were using "robo-signers," or back-office employees who approved hundreds of foreclosure documents daily without reviewing them, in states where repossessions must be approved in court.
Banks had no choice but to suspend foreclosures in those states because submitting false witness testimony meant they hadn't properly proved ownership of the loans in foreclosure.
The second, and perhaps thornier, issue is that banks could have trouble proving they have standing to foreclose as they go back to correct errors. That problem stems largely from mortgages that were bundled into pools and sold to investors as securities. This process, known as securitization, became the preferred method of financing U.S. home loans over the past 30 years.
"This is back-office work. This is not all going to resolve itself immediately, and we're going to have to be patient," says Richard Dorfman of the Securities Industry and Financial Markets Association's securitization group.
Real-estate law requires the physical transfer of paperwork whenever mortgages trade hands, and analysts are raising questions about how often that happened during the housing boom. One concern is that banks may have lost, or didn't ever have, mortgage certificates. If that happened, banks will have to pause foreclosures for months as they track down certificates and refile paperwork.
"The best case is this is going to slow the process considerably but not change the outcome," says Joshua Rosner, managing director at investment-research firm Graham Fisher & Co.
For example, in Florida, which requires banks to foreclosure through the court system, the average borrower had spent 678 days without paying before being evicted through foreclosure, according to J.P. Morgan.
Under a far gloomier scenario, the problems created by using robo-signers may be irrelevant if, instead of being lost, mortgage documents weren't ever properly transferred during each step of the securitization process, says Adam Levitin, a professor of law at Georgetown University. If that happens, "the whole system comes to a halt," he says. Investors could argue in court that they never owned the mortgages backing their money-losing securities.
Banks and their attorneys say such fears are overblown. Procedures for transferring loans into mortgage-backed securities "are sound and based on a well-established body of law governing a multi-trillion dollar secondary mortgage market," said Tom Deutsch, the executive director of the American Securitization Forum, in a statement Friday.
For now, the foreclosure machinery operates in fits and starts. For instance, Bank of America said it had suspended foreclosures in Ohio while it reviews procedures there.
Still, attorneys for Bank of America moved to take back three homes through foreclosure on Oct. 12 in Franklin County, Ohio, according to a court clerk. In Summit County, Colo, J.P. Morgan on Friday took back a foreclosed condominium unit on the courthouse steps with a bid of $154,278, according to the county treasurer. A J.P. Morgan spokesman said the bank isn't suspending foreclosure sales in Colorado.
In Lee County, Florida, both J.P. Morgan Chase and Bank of America continued to pursue judgments moving homes through foreclosure, according to court records. April Charney, a Florida-based attorney with Jacksonville Legal Aid says she's been contacted by at least five attorneys across the state who represent borrowers whose homes are proceeding to sale. A J.P. Morgan Chase spokesman said "we have asked our local foreclosure attorneys not to seek judgments."
Michael Holmes, 55 years old, an antique dealer, is upset that GMAC Mortgage, a loan servicer, is going to auction his home in Belfast, Maine, next week. Mr. Holmes expected the company to suspend his foreclosure sale because the lawsuit against him included an affidavit from Jeffrey Stephan, a GMAC employee who testified to signing as many as 10,000 loan documents without reviewing them. "There's all this news everyday that foreclosures are being halted, but that's just not the case for me," he says.
GMAC had originally scheduled an auction of Mr. Holmes' Victorian-style home for Thursday of this week, but postponed the sale for seven days after Mr. Holmes' attorney, Andrea Bopp Stark, contacted the company.
A GMAC spokeswoman said Friday it won't pursue a foreclosure sale based on a "defective affidavit, and in Mr. Holmes' case "an amended affidavit was filed and accepted."