The dollar's slump could get far worse if the dollar index takes out last year's low, Robin Griffiths, technical strategist at Cazenove Capital, told CNBC Monday.
"If the (dollar index) takes out the low that was made roughly a year ago I really think that will not only encourage more sales, it will cause a little bit of minor panic," Griffiths said. "A year ago it was deemed too cheap, if it goes any lower than that it's actually become toxic waste."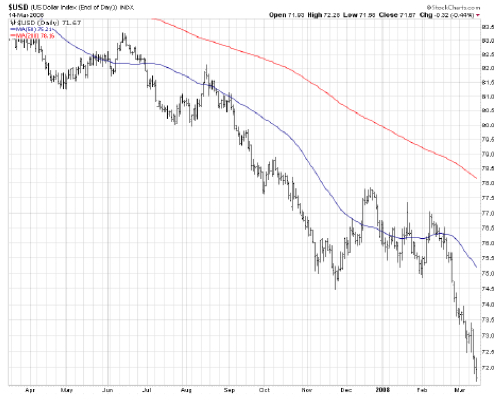 The dollar [.DXY 77.185 ] resumed its recent downtrend Monday in the wake of a meeting of finance ministers from the Group of 20 nations at the weekend. The meeting failed to yield a definitive agreement on currencies, putting selling pressure on the greenback.
"The dollar is being trashed, we've actually had effectively devaluation of about 14 percent in the last two months," Griffiths said.
His view is contrary to that of HSBC foreign exchange strategist David Bloom, who told CNBC that a continuation of the currencies war after the G20 might put pressure on risky assets, causing a flight to safety into the dollar.
The outlook for the stock markets is more positive and the major indexes could be set to benefit from the seasonal upswing that typically starts at this time of year, according to Griffiths.
"We are now at the very beginning, on an ordinary year, of the strong season of the year," he said.
"The fact that it didn't go super weak in the weakest season on the year doesn't mean the seasonality isn't there, it means it was overridden, this time of course by the printing press of the Fed," he added.
Typically the major stock markets see a seasonal decline in September, but this year the month saw the markets rise strongly.
The seasonal upswing should add to any positive momentum being generated by expectations of further monetary easing from the Federal Reserve, Griffiths said.
If the stock rally materializes, it will likely last until the end of the year and one of the best ways to take advantage of it is to buy good quality, large-cap stocks, according to Griffiths.
"The dividend yield on the first-class equities, the sort of things that dominate FTSE, are actually safer as a stream of income than many government bonds are," he said.