The Dutch Party for Freedom (PVV) led by Geert Wilders is leading both of the nation's major opinion polls. While the party currently holds only nine seats of the 150 seats in the Dutch Lower House Parliament, both the Synovate Political Barometer and pollster Maurice de Hond say the party stands to be the largest in Parliament following the next national elections. If PVV were to win the plurality of Parliament seats, Wilders would be called to assemble the Netherlands' next ruling coalition.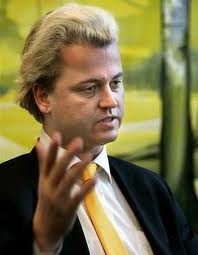 Wilders is known worldwide for his views on Islam. He created the short movie Fitna, which links Koranic verses to modern terrorism, and has called the Koran "fascist" and Islam a "totalitarian ideology." He suggests that the right to religious freedom should not apply to Islam, and he has called for his country to ban the building of new mosques. He is currently planning a sequel to Fitna that will document the effects of mass Muslim immigration to non-Muslim countries.
Backlash over Fitna and over Wilders' controversial statements on Islam appears to have boosted his popularity. PVV's popularity rose in polls after an Amsterdam court decided to press charges against Wilders over his statements regarding Islam, and rose again after Wilders was denied entrance to Britain, where he planned to show his movie.
PVV won a significant victory last month, when it received four out of the Netherlands' 25 seats in the European Union Parliament. PVV got 17 percent of the vote, putting it just three percent behind the leading CDA.
Anti-Islam and anti-immigration parties won elsewhere in the EU as well: the whites-only British National Party won two seats for the first time, Austria's Freedom Party gained seats, and the anti-immigration Jobbik party won three of 22 seats in Hungary.