Michelle Obama managed to show respect to her Muslim hosts when she visited a mosque on her tour of Indonesia wearing Islamic head dress.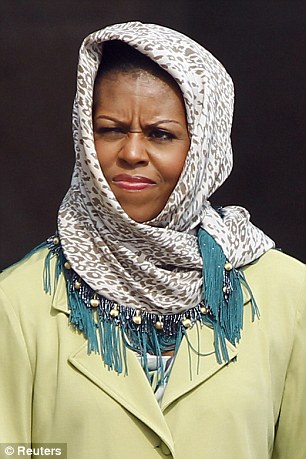 The First Lady covered her hair with a beige animal-print scarf as she toured Jakarta's Istiqlal Mosque, the largest in southeast Asia.
Along the way, the mosque's imam showed them a Christian church visible in the distance , the Obama's did not visit the Church.
A smiling Mr Obama then relayed that story to reporters.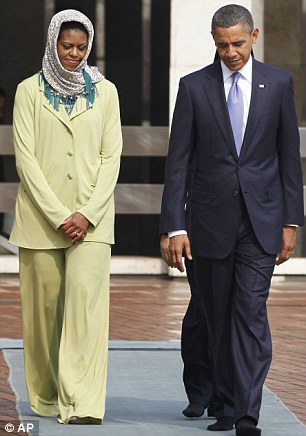 He called the distant Church an example of cooperation between the different religions in Indonesia, which has the world's largest Muslim population.
Iranian President Mahmoud Ahmadinejad not only made the same stops to this Mosque on a trip to Indonesia four years ago, but was greeted, according to press reports, as a "rock star."
Later, he told a group of Indonesia's top clerics that every young Muslim man was an "atomic bomb." When Ahmadinejad attended the Friday prayer service at the Istiqlal Mosque, the congregation greeted him with a chant of "God is great" and a crowd gathered outside sent him off with a lusty cheer of "Fight America, fight Israel.