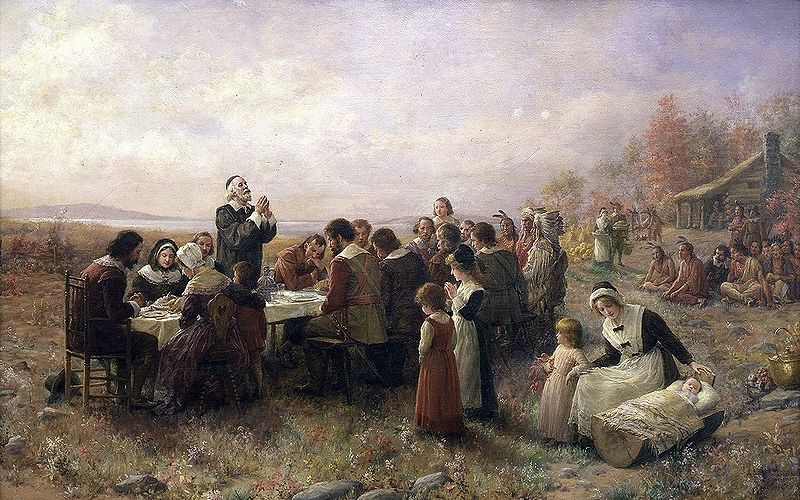 Americans really are blessed. It's Thanksgiving weekend, and most of us are free to approach it as we please: Gathering once again as family and friends to enjoy favorite food and company, we may choose to thank God for all we have. We may just dig into the turkey and trimmings with a general sense of gratitude for our lives. Or we may face Thanksgiving like just about any other holiday from work — except with more football games and parades.
The local religion sheriff doesn't check to make sure we do as we've been told – whether by living out our faith just so or by practicing no particular religion at all.
Not so in China, Iran, North Korea, Saudia Arabia and many other countries that are home to nearly three of every four human beings, as Jennifer Marshall, director of The Heritage Foundation's DeVos Center for Religion and Civil Society, writes in a column for the McClatchy-Tribune wire. These nations, Marshall notes, sharply curb religion:
"These governments lack what we take for granted in the United States: a constitutional framework that values religion and protects religious liberty. The key to America's success story on religious liberty is in the Founders' design. The Constitution protects the free exercise of religion while prohibiting the establishment of a national religion. … In fact, the Founders considered religious engagement in shaping the public morality essential to ordered liberty and the success of their experiment in self-government."
Nations with more religious liberty, Marshall adds, usually offer more political and economic freedom — plus prosperity. (You could look it up in the Index of Economic Freedom co-published by The Heritage Foundation and The Wall Street Journal.)
No wonder advocates of religious freedom have been concerned about scant attention from the Obama administration and Congress to appointment of a new ambassador for international religious freedom. As World magazine's Emily Belz notes, hardly anyone has probed the qualifications and perspective of nominee Suzan Johnson Cook, the Bronx pastor who is Obama's belated nominee. Cook got a lame "hearing" Nov. 17 before the Senate Foreign Relations Committee.
That same day, the State Department released its 2010 Report on International Religious Freedom, which isn't exactly drawing raves for making tough calls (to say nothing of speaking the truth in love, as the Apostle Paul put it).
"Societies in which freedom of religion and speech flourish are more resilient, more stable, more peaceful and more productive," Secretary of State Hillary Clinton told reporters.
But friends of religious liberty shake their heads that, surprise, relatively tolerant allies such as Israel come in for more pointed criticism than do notoriously intolerant nations, as Catholic News Agency notes. And, advocates say, State has yet to add to the Bush administration's last list of eight "countries of particular concern" for restricting religion despite flagrant cases such as Iraq, Nigeria, Pakistan and Vietnam.
The eight nations on the most recent list are Burma, China, Eritrea, Iran, North Korea, Saudi Arabia, Sudan and Uzbekistan. Michael Posner, assistant secretary of state for democracy, human rights and labor, pledged that State will designate more restrictive countries "in the next couple of months." But as Baptist Press reports, Posner made a similar promise last year that the administration intended to name those nations by January 2010.
Marshall argues that too many Americans – and our leaders – have a "poor understanding" of the roots of our own religious liberty. A stronger foundation would serve U.S. national interests by encouraging freedom of religion in other countries.
The folks at State, as well as loyal Foundry readers, may get a refresher in the roots of religious liberty in America by listening here to a Heritage in Focus podcast for Thanksgiving, as host David Weinberger welcomes David Azerrad, assistant director of Heritage's Simon Center for American Studies.
Source material can be found at this site.