Images have unprecedented power to mold public opinion. The three international wire services – the Associated Press, Agence France Press / Getty Images and Reuters – have assumed a central role in presenting images from Israel and the Palestinian territories to the world.
HonestReporting was first became intimately involved in the role of the wire services in photo choice when we exposed Reuters' 2007 calendar gaffe, which followed the Fauxtography affair from the 2006 Lebanon War.
Since then, we have covered numerous instances of photo bias, including a blatantly staged photo of Hamas taken by Reuters photographer Mohammed Salem in 2008. Reuters continues to publish Salem's photographs of the region, including another series of staged images we documented shortly after the Gaza flotilla in June.
Until now, however, nobody has commissioned a study to examine the imagery produced by the wire services to see whether there are any identifiable trends that may indicate bias.
To find out if Israel is being treated fairly by the wire services, we embarked on a three-month in-depth study of how Israel is portrayed by all three wires. This study covers the period that began with the Gaza flotilla on May 31, 2010 and ended with the murder of four Israelis at the hands of Palestinian terrorists on Aug. 31, 2010.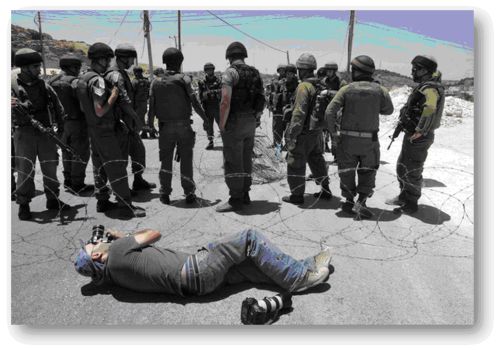 The study was carried out by David Katz, a professional photographer with 25 years experience working at the highest levels in the media together with HonestReporting. Over three months, some 13,500 photos from Israel and the Palestinian territories were reviewed.
The study revealed a pattern of double standards and bias that has become a norm in coverage of the region, particularly in regard to the Israeli-Palestinian conflict.
Distortions of images mostly fell into the following categories:
The study did not reveal significant instances of photo manipulation through programs such as Photoshop. While dramatic examples of digital photo manipulation have been uncovered in the past, most notably during the Second Lebanon War, the study found that photo bias against Israel consisted largely of subtle techniques such as staging images.
To ensure objectivity in the study, HonestReporting used the wire services' stated missions (Appendix 1) as its standard, comparing the missions to actual performance.
Over the coming weeks, we will be releasing the findings of our study, starting with an examination of the images produced during and after the Gaza Flotilla incident.
CLICK HERE TO VIEW THE FIRST PART OF SHATTERED LENS:
Source material can be found at this site.