Latest: Two explosions in central Stockholm Saturday were a "terrorist" attack, Swedish Foreign Minister Carl Bildt said in a message sent from his Twitter account.
STOCKHOLM — Two explosions shook central Stockholm on Saturday, killing one person and injuring two, rescue officials said.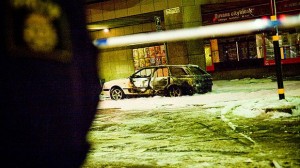 What appeared to be a Middle Eastern man, blew himself up at Bryggargatan in central Stockholm on Saturday. A few minutes before a car exploded at Olof Palme street nearby.
Police spokeswoman Petra Sjolander said a car exploded near Drottninggatan, a busy shopping street in the center of the city. Shortly afterward, a second explosion was heard higher up on the same street, and a man was found injured on the ground. He was later pronounced dead.
Rescue services spokesman Bengt Norberg said two people had been taken to hospital with lighter injuries. He said the dead person was still lying on the street that appeared to have blow up himself in a suicide bombing. According to the Stockholm police also found a bag near the
deceased person. The police would not go into what the bag contained.
Sjolander said it was unclear what caused the second explosion but a police bomb squad has been sent to the site.
Another rescue services spokesman, Roger Sverndal said the car that exploded contained gas canisters.
Gabriel Gabiro, a former AP staffer, was inside a watch store on the opposite side of the street from the second explosion and saw people running from the site.
"I saw some people crying, perhaps from the chock," he said. "There was a man lying on the ground with blood coming out in the area of his belly, and with his personal belongings scattered around him."
Gabiro said the blast was "quite loud" and he saw smoke coming from the area where the man was lying.
"It shook the store that I was in," he said of the blast. "Then there was smoke and gun powder coming into the store."
Just last month Europe increased its terror threat as Islamic terrorist chatter of a Mumbai type attack on major European cities. Sweden which has so far been spared of any large terrorist attacks — raised its terror threat alert level from low to elevated in October because of "a shift in activities" among Swedish-based groups that could be plotting attacks there.
The security police then said the terrorism threat in Sweden, a Scandinavian country, remained low compared to that in other European countries, and no attack was imminent. Today this block of Sweden looks more like a scene out of Iraq or Afghanistan.
UPDATE: From Swedish-language media:
This is the first time anyone has blown himself up in Sweden, ever. To think that this is a completely random act is just silly. And now we have a jihadist e-mail, sent ten minutes before this completely unique explosion.
The car was registered to an "Abdul T".
A witness who tried to give the man CPR says he removed the man's Palestinian scarf while doing so. The man apparently had a whole bag of explosives.
[youtube zlb95PpAuj8 nolink]