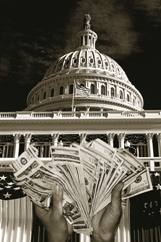 Majority Leader Harry Reid (D-NV) has just released an omnibus spending bill that will lock-in 2010 spending levels through the next fiscal year (ending September 30). The 1,924 page bill (pdf) contains unknown thousands of earmarks and will prevent the next Congress from making spending cuts until fiscal year 2012. Sen. John Thune (R-SD) released the following statement:
The attempt by Democrat leadership to rush through a nearly 2,000 page spending bill in the final days of the lame-duck session ignores the clear will expressed by the voters this past election. This bill is loaded up with pork projects and should not get a vote. Congress should listen to the American people and stop this reckless spending.
For the first time in the history of the modern budget process, this Congress failed to even vote on a budget for next year. This Congress has forfeited their right to spend. The next Congress should be as free as possible to set spending priorities. The 111th must pass something to keep the government running, but it should do so with as short-term a continuing resolution as possible.
Source material can be found at this site.