Thousands rallied at Kikar Tzion (Zion Square) in Jerusalem Thursday evening in support of the Jewish residents of Judea and Samaria, and continued construction there.
Rabbi Shalom Dov Wolpe of Our Land of Israel warned Prime Minister Binyamin Netanyahu in his speech that if he decides to destroy Jewish communities in Judea and Samaria, "There will be civil war here."
The majority of the crowd wore black hats and black jackets. But a mix of different people came such as men with long hair.
Veteran activist Shifra Hoffman came with her homemade sign against another freeze for Jewish residents of Judea and Samaria.
"They say words can kill, but missiles certainly kill," he added. "Bibi Netanyahu, you should know, the entire holy crowd here, we all declare – if you tear down the isolated communities, this is treason. You were given the mandate to lead in order to build the Land of Israel, not freeze it."  
MK Michael Ben-Ari (National Union) addressed the protesters and told them about his plan to house infiltrators in posh Tel Aviv neighborhoods. "I made thousands of telephone calls to the residents of Ramat Aviv and called upon the dear residents of Ramat Aviv to shoulder their share of the burden," he said sarcastically.
Ben-Ari recalled telling the residents of the north Tel Aviv neighborhood: "You are humane and democratic and not racist, let's see you accepting the African invasion."
"What do you think I got in response? Curses and shouting. Leftists voice criticism of the demonstrators in Petach Tikva and Bat Yam but we should say the truth: the Land of Israel should have a Jewish character, not a character of enemies."
Ben-Ari noted that Israel's founding prime minister, David Ben-Gurion, was a proponent of "Hebrew work" (avoda Ivrit) – the idea that Jews should do all of the labor in Israel and refrain from hiring others to do the more tedious, difficult or dangerous jobs.
Were Ben Gurion alive today, Ben-Ari said – he would be reviled as a racist.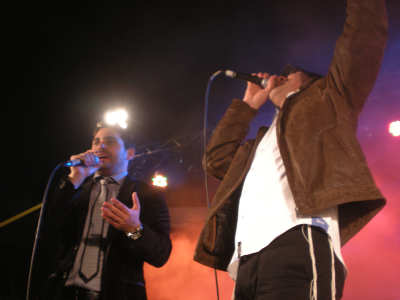 Yishai Lapidot of the band Oif Simchas (right) and Gad Elbaz (left) sing together on stage.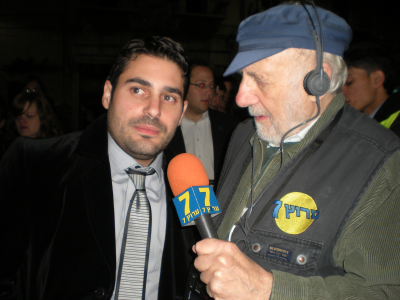 Singer Gad Elbaz spoke with Israel National Radio's Walter Bingham about his inspiring trip to the Gush Katif Museum in Jerusalem which details historic and modern Jewish live in the Gaza Strip. He sung hasidic style songs as well as hip-hop. Elbaz recently returned from a tour in Hong Kong and other foreign countries.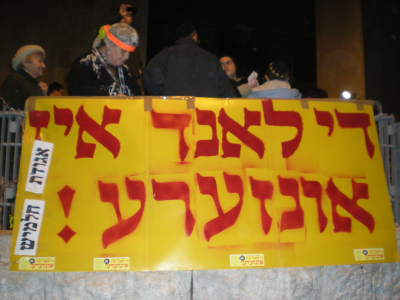 "The land is ours," states this homemade sign in Yiddish, indicating the demographic make-up of many of the rally participants.
Rabbi Yosef Yitzchak Jacobson came in from Brooklyn, New York just for the rally. Still sweating from his emotional speech, he said that ironically, Israel is the only country in the world that restricts where Jews are allowed to build homes.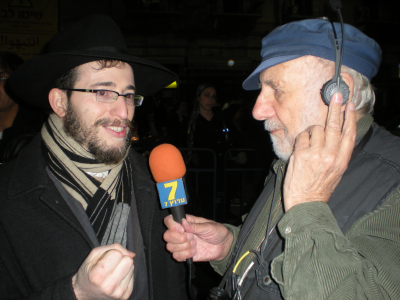 Hasidic singer Mendy Jerufi spoke of the connection between Israel and the Jewish people, his fondness for the Chabda-Lubavitch movement and his appreciation for Arutz 7 who helped jump-start his career with airplay for his music.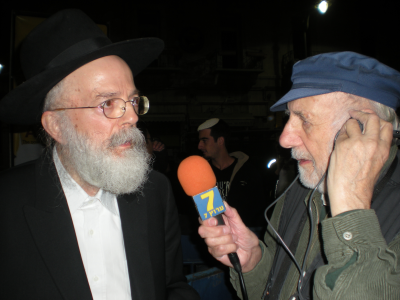 Rabbi Shalom Dov Wolpe spoke of the growing and significant number of black hat hareidi religious residents of Judea and Samaria. He also noted that a mix of different demographic groups attended the rally.
Photos by Ben Bresky, Israel National Radio.
(IsraelNationalNews.com)
Source material can be found at this site.