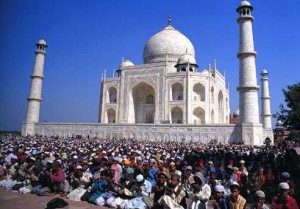 A new threat is emerging – or re-emerging – that moves terror beyond even what has been created by blood-thirsty radical Islamists who want a worldwide caliphate under control of the Shariah and the Qu'ran, says a report from Joseph Farah's G2 Bulletin.
The new multi-national threat comes from Muslims who want a stateless society – no government, no rules, no police, no authority – and have emerged partly along with Europe's growing financial crisis.
They are anarchists.
Often tied to leftist organizations as well as more traditional terrorist groups such as the Red Army Faction, they stunned the world four decades ago when known as the Baader-Meinhof Group with their allegiance to violence for the sake of violence alone.
Security experts note they've been around ever since: clogging streets outside meetings of the International Monetary Fund and World Bank and the G-20. They march, destroy storefronts and vehicles, then confront police and lose the battle.
But now analysts confirm they've seen an increase in the intensity and violence in the anarchists' arsenal of weapons.
Just in recent days they planted an explosive device on a motorcycle, blowing up and damaging portions of a courthouse in Athens. No one was injured. Shortly before that, letter bombs sent over the Christmas holidays to several embassies in Rome did explode, causing casualties.
"We're striking again, and we do so in response to the appeal launched by our Greek companions," according to the Italian group known as the Informal Anarchist Association.
Antonio Marini, chief prosecutor in Rome investigating anarchism in Italy, has raised the prospect that anarchist groups in other European countries could increase the level of violence or merge with other, more aggressive entities.
In addition to Italy, anarchist groups have been set up in France, Germany, Greece, Spain, Austria, Holland, Switzerland, Sweden, Portugal, and in the Eastern European countries such as Bulgaria, Belarus, the Czech Republic, Slovakia, Ukraine and even Russia.
As these groups spread, there are signs that they are coordinating their activities, such as the French Alternative Libertaire, the Swiss Organisation Socialiste Libertaire which is politically close to the French AL, and the Italian Federation of Anarchist Communists, or FdCA.
According to the European Union's Europol, attacks by anarchist militant groups increased by 43 percent in 2009, a level which more than doubled from 2007.
"We will organize internationally and take aim at the enemy," one anarchist group's statement recently said. "We can't wait to see the subversive elements flooding the streets and the guerrilla groups striking again and again."