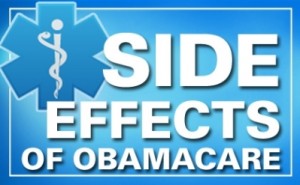 This year, as the clock strikes twelve on New Year's Eve, Americans who depend on health savings accounts (HSAs) to make medical expenditures more affordable will experience first-hand yet another adverse side effect of Obamacare.  Starting in 2011, American families will no longer be able to use HSAs to purchase over-the-counter drugs, such as cough and allergy medicines.
Americans using HSAs will not be the only ones affected.  The provisions of the new law will also change rules regarding the use of flexible spending accounts (FSAs) and health reimbursement accounts (HRAs).
One of the benefits of these savings accounts is that they allow users to put some of their earnings into a separate, tax-free account.  This money can then be used for out-of-pocket medical costs such as medical deductibles, eyeglasses, and prescriptions.  Since users can make medical purchases using pre-tax dollars, these accounts help cut out-of-pocket costs by about 20 percent, on average.
But under Obamacare, the kinds of expenditures for which HSAs, FSAs, and HRAS can be used will be restricted.  Americans will no longer be able to use these accounts for over the counter drugs and other medical necessities without a prescription.  Throughout the course of the health care debate, President Obama assured the nation that the massive health care overhaul would bring down costs and help low- and middle-income Americans to better afford medical costs.  But restricting the use of FSAs, HRAs, and HSAs, will do the opposite.
The Washington Post describes how this provision of the health care law will affect one working couple.  According to Kim Schmidl-Gagne,
…she and her husband live paycheck to paycheck. At the end of a pay period when money's tight and they need over-the-counter medicines, it's been helpful to be able to tap the $500 they deposited in an FSA. 'I don't get how this [change] helps working families,' she says.
The Post goes on to point out that patients with chronic conditions will experience higher costs as well.  According to Roland Goertz, the president of the American Academy of Family Physicians, patients with allergies, heartburn, and those who use over-the-counter low-dose aspirin therapy for cardiovascular problems will be hit the hardest.  Moreover, he worries that the restrictions on these accounts will create more complexities for people who simply want to get items such as cough medicine.
One consequence of this provision will be that, by requiring prescriptions for over the counter drugs, patients will make more unnecessary doctor's visits, increasing costs across the board.
Obamacare will not help cut costs for everyday Americans.  For this and its several other shortcomings, the law should be repealed and replaced with real reform based on patient-centered, market-driven ideas.
Source material can be found at this site.