Elizabeth Scalia– A few years ago I had occasion to spend a few days in Vienna. The beautiful city of museums and music remains a favorite but a forlorn one; its charming avenues and architecture and nightly concerts could not fully distract from the sleepy sense of diminishment that hung over the city, like the acquiescence of a cancer patient who has decided to forgo the next round of treatment.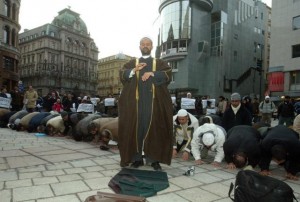 "Vienna is dying," I wrote in my journal. "While traipsing its avenues and hopping on and off of buses, we see a materialistic society bearing more dogs on leashes than children in strollers. The concierge is from Turkey. The hotel staff is mostly Asian, and the taxi driver appears to have migrated from Planet Neptune. For each characteristic coffee house there is a kebab stand. Where is Vienna's tomorrow?"
In 2004, the Spanish writer Sebastian Vivar Rodriguez created a stir by announcing that "Europe died in Auschwitz." In Auschwitz, he wrote, "we burned a culture, thought, creativity, talent. We destroyed the chosen people, truly chosen, because they produced great and wonderful people who changed the world. The contribution of this people is felt in all areas of life: science, art, international trade, and above all, as the conscience of the world. These are the people we burned."
Pascal Bruckner recently picked up the theme, writing of Europe's Guilty Conscience: "Brooding over its past crimes (slavery, imperialism, fascism, communism), Europe sees its history as a series of murders and depredations that culminated in two global conflicts. . . . Those born after World War II are endowed with the certainty of belonging to the dregs of humanity, an execrable civilization."
Both writers have a point. The wartime slaughters of the twentieth century eclipsed anything previously seen in history and exposed to humanity the depths of its own brokenness as never before; humanity appears to have looked into its abyss and seen nothing redeemable.
Europe's self-loathing is reflected in the uniformly low birthrates which–among non-immigrants–average less than 1.5 children per female. Cultures and peoples unable or unwilling to sustain a replacement rate of 2.1 per female are cultures and peoples that will die out.
What of America? The only nation to have yet deployed nuclear weapons in pursuit of victory has also been the nation of unbridled optimism and prosperity, and yet she has slaughtered her own tens of millions in the womb, often for motives of convenience and profit, and there are faint but unmistakable signs that utilitarian sensibilities will soon affect life issues.
As of April of this year, America's own fertility rate has for the first time dipped to 2 children per female, suggesting that Americans, too, have lost sight of redemption. Drowning in guilt and content to be distracted, the iPad-ed and iPod-ed and singular West appears to be waving a white flag and settling in for the big sleep.
Catholics should appreciate the irony in all of this: The postmodern world has willfully misunderstood the Catholic Conscience for what they derisively hoot at as "Catholic guilt," and yet it is the "enlightened" secularist culture that is condemning itself to extinction, because it rejects the concepts of "good" and "evil," recognizes no sin beyond "intolerance," and sneers at the need for a Savior; it is therefore unfamiliar with mercy and lacks the tools of absolution.
The humble confessionals of the Catholic Church have contained a billion battles between darkness and light, and from their cramped recesses have stepped forth people exposed to mercy, prayed over and created anew; no matter their age their souls are, in the words of Chesterton, "only five minutes old."
Those imperfect, broken but absolved people–whether peasant living in the meanest hovel or prince in gilded palace–stepped away from the experience of confession on an equal footing, as mere and acknowledged mortals made redeemed Sons and Daughters of the Eternal King. Acquainted with Eternity and willing to perceive something greater than themselves, they could see beyond the day's crimes, and that gave them hope; with the strength of spiritual vitality, they maintained their perspective about passing things, and kept living.
They ate the air, promise-crammed.
Pope Benedict XVI, imperfect-but-faithful, unjustly reviled, is the last great man of the twentieth century who is still astride the world stage. He has lived under the jackboot of totalitarianism and is intimate with Europe's deadly depths. He has received the confessed failings of his own priests and bishops and wept with their victims, and prayed. A lifetime spent immersed in the pageant of human sin and redemption has given him some insight as to how a single person (and a nation, and a culture and a church) may transcend unimaginable confusion, guilt, and pain in hope and faith.
When Joseph Ratzinger took Benedict for his papal name, it was a nod to his own monastic leanings, and a recognition that Europe–of whom St. Benedict of Nursia is copatron–is in a spiritual extremis that is manifesting in the physical, as well. As he prepares to visit the United Kingdom, it remains to be seen whether dying Europe (and not-well America) will allow this burdened-but-willing old man to teach them how to put on the new man, and choose to live.