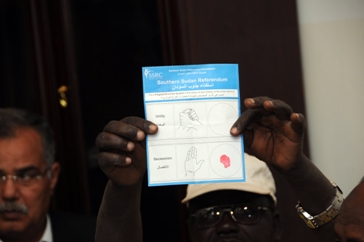 The referendum for southern Sudan's independence, which began on January 9, reached the necessary 60% participation a few days ago. Official results will not be released for a couple of weeks, but an overwhelming "yes" vote is a safe assumption.
The referendum is a momentous step; as the capstone to the 2005 Comprehensive Peace Agreement ending the two-decade civil war, it will create the world's newest country. While southern Sudanese are celebrating their almost certain independence, the challenges ahead are daunting.
Southern Sudan will be one of the most poorly developed countries in the world. Ninety percent of the population lives on less than a dollar a day, the standard global poverty line. Thirty-three percent suffer from chronic hunger, and a measly 6 percent have access to "improved sanitation." The adult literacy rate is only 15 percent, which is no wonder: The country has only one teacher per 1,000 primary-school students. One in six pregnancies end in maternal mortality, and the under-five mortality rate is 135 per 1,000 births.
Sudan was not even rated in Heritage's Index of Economic Freedom for lack of reliable data due to violence and political instability. One may hope that the secession will improve political stability, but development will take much more than a vote.
For starters, there are several important issues that were not resolved prior to the referendum, primarily oil rights. Sudan's main source of revenue is oil, and the oil fields straddle the border that divides the country. Oil provides 98 percent of the south's revenue, but the pipelines that connect the oil fields for export run through the north. The referendum in the oil-rich Abyei region, which will determine whether the oil producer's allegiance is to the north or the south, was postponed indefinitely. Aybei has also experienced significant violence since the start of the south's referendum, and experts worry that this offers a preview of what's to come. Even when oils rights are sorted out, both north and south will have the challenge of finding new sources of revenue. Oil output is expected to peak in 2012 but run out in 20 to 30 years.
Southern Sudan will need to invest in sustainable economic development. This must involve a commitment to improving education—an illiteracy rate of 85 percent isn't going to enable any meaningful development. Economic development will also require commitment to good governance; pre-referendum Sudan ranked 176th out of 180 in Transparency International's Corruption Perceptions Index. Southern Sudan is one of the most resource rich regions in Africa and holds vast potential for foreign investment, but foreigners must feel confident in the political stability of the region before they will invest.
The referendum is not the end of the story; in fact, it is just the beginning. The world's newest country will have its work cut out for it.
Source material can be found at this site.