If one ever wondered how the United States lost the manufacturing base it's giving away technology to produce abroad cheaper, see it for yourself in the real time.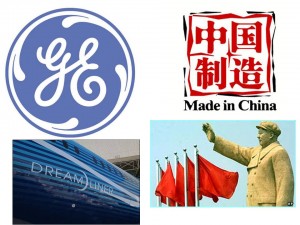 The U.S taxpayers bailed out GE with TARP and other government handouts, now G.E turns around and equips the Chinese with aero-tech so they can take more manufacturing jobs away from the United States to increase their corporate profits.
G.E. plans this week to sign a joint-venture agreement under which it will share it most sophisticated airplane electronics, including some of technology from Boeing's 787 Dreamliner, with state-owned Chinese company Avic, The New York Times reported last Monday.
As China strives for leadership in the world's most advanced industries, it sees commercial jetliners — planes that may someday challenge the best from Boeing and Airbus — as a top prize.
No Western company has been more aggressive in helping China pursue that dream than one of the aviation industry's biggest suppliers of jet engines and airplane technology, General Electric.
For G.E., the pact is a chance to build upon an already well-established business in China, where the company has booming sales of jet engines, mainly to Chinese airlines that are now buying Boeing and Airbus planes. But doing business in China often requires Western multinationals like G.E. to share technology and trade secrets that might eventually enable Chinese companies to beat them at their own game — by making the same products cheaper, if not better.
The joint venture will supply the Chinese Comac C919, which is challenging Boeing and Airbus in the market for single-aisle jets with more than 100 seats. Analysts generally believe the C919 won't find many customers outside of China, but will provide a base on which to build the country's airliner industry.
G.E. will contribute the same avionics system it supplies to the 787, The Times reported.
Greed ridden businesses like G.E simply cannot resist the potential profits in China, even though they know that they are helping future competitors. To allay that concern, they say they'll just have to keep working to build something better.
Kent L. Statler, an executive vice president for commercial aviation at Rockwell Collins, put it best in the story, saying: "I think you're naïve if you don't take into account that you could be standing up a future competitor. … It comes down to who can innovate faster."