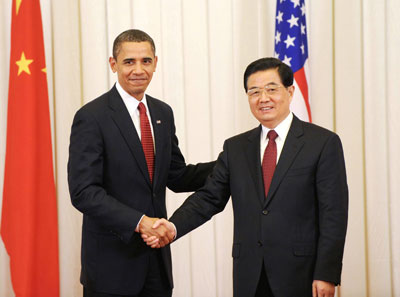 Compared to the U.S.–China joint statement in 2009, this year's joint statement issued at the summit between Presidents Barack Obama and Hu Jintao contains no mention of improving U.S.–China "communication, dialogue, and cooperation on issues related to South Asia."
India objected strenuously to the language in the 2009 joint statement, and the U.S. has apparently taken on board New Delhi's concerns. In any case, China's actions over the last two years have demonstrated that China's interests in South Asia don't significantly match up with the Obama Administration's goals or U.S. interests in the region.
Like Hu Jintao's visit to the U.S., Chinese Premier Wen Jiabao traveled to India in December in the context of recent antagonistic interactions. China's visa policy toward Indian citizens in Jammu and Kashmir has been the recent catalyst for tensions in the relationship. The Chinese government denied a visa last summer to Indian Lieutenant General B. S. Jaswal, whose command portfolio includes Jammu and Kashmir, before his visit to the high-level China–India defense exchange meetings. China has also been improving its military infrastructure near the border with the Indian state of Arunachal Pradesh in combination with enhancements of transportation links to those areas. Additionally, reports of PLA troops in the Gilgit-Baltistan region of Pakistan augment the uncertainty of Chinese intentions in South Asia.
Another issue that has raised concern in the U.S. is China's insistence in moving forward with a deal to supply Pakistan with two new nuclear reactors. China claims that the two reactors fall under a 1991 nuclear reactor agreement deal. The 1991 deal was struck before Beijing joined the Nuclear Suppliers Group (NSG), which prohibits member states from supplying nuclear technology and fuel to countries that have not signed the Nuclear Nonproliferation Treaty. The Obama Administration has argued the deal should be brought before the NSG for special approval; however, when asked about the deal at the last NSG meeting, Chinese officials refused to comment. Despite the nuclear proliferation concerns stemming from Pakistan's past history with the A. Q. Khan network and lack of transparency on this new reactor deal, reports suggest that China is advancing its efforts to complete the exports of the reactors to Pakistan.
The recent actions by China, along with clamoring from India about the 2009 statement, is probably the reason for U.S. officials eliminating the direct reference to South Asia in this week's joint statement. The Obama Administration should rethink its views on opportunities for interaction with China in South Asia. At the moment, there appears to be more differences than commonalities in our two countries' policies toward South Asia. Clearly, room for close dialogue and cooperation on South Asia between the U.S. and China is currently unrealistic.
Source material can be found at this site.