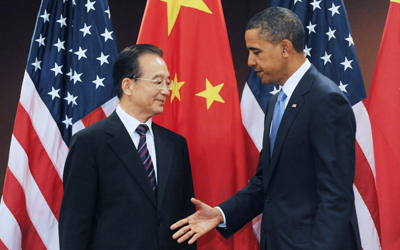 President Obama's comments on Wednesday in a joint
press conference
with Chinese President Hu Jintao, misinformed the public about potential changes in foreign exchange rates and their effects on U.S. citizens. Obama on Wednesday said that he would like to see the Chinese yuan appreciate faster in value. While Hu indicated that China is committed to allowing the free market to better dictate the value of the yuan, Obama said China is implementing their steps to allow the yuan to appreciate "not as fast as we'd like."
For years, the U.S. has been criticizing China by calling them "currency manipulators". The fact is, the Federal Reserve is the real currency manipulator because their actions will soon lead to a U.S. Hyperinflationary Great Depression that destroys the lives of all Americans who aren't prepared for life with a worthless U.S. dollar. All China is doing is pegging the yuan to the U.S. dollar so that their product manufacturers and exporters can maintain some level of stability. However, the U.S. is using this as an excuse to explain its rapidly deteriorating export market.
Obama was correct when he explained to the world how China would benefit by having a stronger yuan. Obama understands perfectly how a stronger yuan would bring down prices for Chinese citizens and allow them to enjoy a much higher standard of living. In fact, NIA believes China could solve their current inflation crisis simply by allowing the yuan to appreciate alone.
China has seen the prices of many food items soar by 25% or more in recent months, which is horrific for a country where many of its citizens spend half of their income on food. While most mainstream economists on CNBC, Bloomberg, and FOX Business are quick to blame China's food inflation crisis on the weather, NIA believes the weather has very little to do with it. It seems like the weather is always the excuse every time food prices rise. Mainstream economists would have you believe that the world has been experiencing never-ending droughts and floods that continue to worsen each year.
NIA members know better than that. After all, we have the most educated membership base in the world. The truth is, China's food inflation crisis is coming as a direct result of the Federal Reserve's destructive quantitative easing and money printing policies, and China's willingness to keep the U.S. dollar artificially propped up out of fear that Americans will no longer be able to afford their exports. China is importing all of its food inflation from the U.S. and if President Obama gets his way, China will throw its food inflation right back into the faces of all U.S. citizens.
Imagine a food fight in school between American and Chinese kids with the American kids throwing their free National School Lunch Program (NSLP) meals (paid for by Chinese purchases of U.S. treasuries) at the Chinese kids while the Chinese kids sit there ignoring it trying to enjoy their own meals that they spent half of their income to buy. All the while, the American kids are antagonizing the Chinese kids, calling them currency manipulators and blaming their need for free NSLP lunches on China's currency peg (when the peg is actually preventing the American kids from starving). Sooner or later, not only will the Chinese kids throw the NSLP lunch remains back at the Americans, but they might become so disgusted (because they paid for the food being thrown at them) that they actually regurgitate their meals that they worked half of the day to be able to consume, into the American kids' faces.
If the Federal Reserve continues down the path it is currently on, not only will China allow the yuan to rise to a free market determined level, which will send China's food inflation crisis back to the U.S., but China is likely to dump their U.S. treasury holdings that they are currently hoarding. China's foreign exchange reserves rose by $199 billion last quarter (its largest quarterly gain in 15 years and 78% higher than analyst estimates of $112 billion) to a record $2.85 trillion for total growth in 2010 of 18.7%. Most likely, about 2/3 of these reserves are in U.S. dollars. Americans have been deceived by the U.S. government and the mainstream media into believing the U.S. economy is recovering, because the U.S. has been enjoying the benefits of inflation without the consequences of rising prices. When the U.S. bond bubble begins to burst and these trillions of dollars being hoarded come home to roost, inflation will become the primary concern of all Americans.
NIA finds it completely outrageous how Obama can be so honest with Chinese citizens about their benefits of having a stronger yuan, but then seconds later outright lies to the American public by saying that Americans would gain by having a stronger yuan as well. A stronger yuan by definition would mean a weaker U.S. dollar. It is insane for Obama to proclaim that having a stronger currency is good for China but bad for America. The rules of economics are the same in both countries.
As the Chinese see their purchasing power increase by having a stronger yuan, Americans will see their purchasing power decrease by having a weaker dollar. These simple economic principles are easy for any human being to understand, but nobody in the mainstream media is calling Obama out on it. The media completely accepts Obama's statements as the truth, without providing any warning to American citizens that Obama's desired change in foreign exchange rates will shift China's inflation crisis completely to the U.S.
On November 12th, NIA's President Gerard Adams warned Americans on FOX Business to beware of massive food inflation in early 2011. We are less than three weeks into the new year and massive food inflation is already here. SuperValu, the third-largest U.S. food retailer with 2,349 stores that operate under such names as Acme, Albertsons, Save-A-Lot, just reported that all of their major vendors have announced their intentions to pass along rising costs throughout the calendar year and the company will be raising prices on all food items by 3% to 14%. NIA's experience tells us that SuperValu is planning to increase prices on most goods by approximately 14%. Trust us, if SuperValu was expecting to increase prices by an average of only around 5%, they would have given an average instead of such a wide range. (By the way, SuperValu's stock crashed 16% on the news and one of NIA's top 10 predictions for 2011 was that U.S. retail stocks will decline after reporting lower profit margins.)
The SuperValu situation confirms that double-digit U.S. food price inflation is just about guaranteed to occur in 2011. We also expect to see double-digit price inflation this year in clothing, oil, gasoline, natural gas, and all of the most important things Americans need to live and survive. If the U.S. Bureau of Labor Statistics (BLS) somehow manages to report a CPI increase in 2011 of anything less than 5%, and the mainstream media continues to report the BLS's CPI numbers as the truth, any Americans who continue to listen to the mainstream media deserve to lose all of their purchasing power during hyperinflation